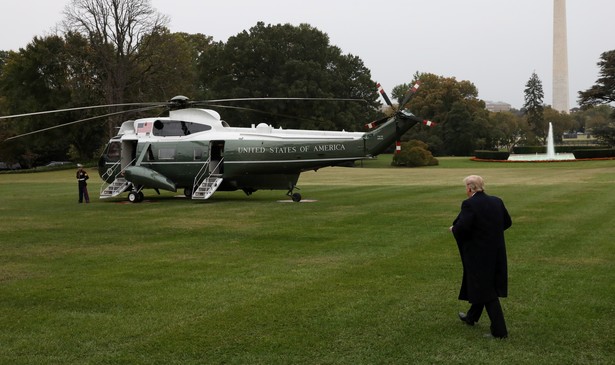 I imagine this will be the last installment in the "weather flying with Marine One" series. Two previous entries here and here. (On the other hand, who knows that the incoming email inbox will hold.)
A person who has worked at the company that makes the current Marine One helicopter, aka VH-1, has this to say:
On your recent piece addressing the ability of the Presidential VH-1 to fly in bad weather. I would like to add some observations that my experience of nearly 10 years at Sikorsky Aircraft (the maker of the helicopter in question) allows me to contribute.  

I was [a high-level official involved in] many "systems" for Sikorsky aircraft.  I can't say for certain (I lacked the necessary clearance for such information) which block upgrades the VH-1 received over the years, but what I can say is that aircraft from the VH-1 squadron were a constant presence at the Stratford factory for maintenance and system upgrades.

Generally speaking modern Sikorsky aircraft (which no doubt would includes the VH-1) will integrate:

RIPS – Rotor Icing Protection System, which is a system of heating elements and conductive wire brushes which warms the rotating blades and prevents freezing;
TAWS – Terrain Avoidance Warning System, which as you might guess is an integrated radar system which warns of terrain variations;
RIG approach -  Rig approach landing systems, which are autonomous landing systems for dangerous landings primarily on oil rigs that obviously could be used in other types of dangerous landings; and
Windshield Wipers; in case anyone doubted it, yes helicopter pilots have wipers at their disposable for visibility.

In short, when I read that the aircraft could not fly in the wet, fall weather in France, I was stunned.  
No one would buy a medium lift helicopter for tens of millions of dollars if it could not be flown in inclement weather.  In fact, one of Sikorsky's best medium lift class markets is the oil rigs in the North Sea, which is among the most inhospitable operating environments on earth and requires rotor-wing aircraft that can fly in all types of weather.

More than most, Mr Trump, who has flown Sikorsky aircraft for years, should know his press office is uttering easily disprovable falsehoods in suggesting the aircraft was the cause of his absence from Armistice Day ceremonies.

While it was professional of you to withhold conjecture on the real cause, my suspicion was bruised feelings and the apprehension of appearing marginalized was at the core of the decision.