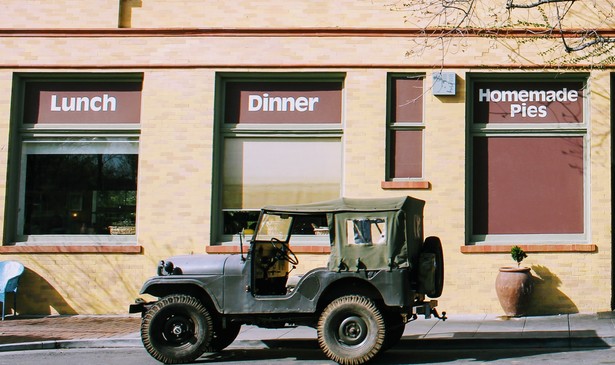 The ongoing theme of this site is the possibility and practical-mindedness of much of local-level America, at just the moment when national-level politics have become so bitter and dysfunctional.
But of course cities exist within states and regions, and states and regions are subject to national policy and international trends. Here are two illustrations, from opposite sides of the country, of the way national policies of the moment are affecting local efforts we've chronicled over the years. One is from the rich farmland of California; the other, from a challenged city in industrial Pennsylvania.
---
Almonds and walnuts in California: Five years ago, Deb Fallows and I made the first of what became many visits to the farming town of Winters, California. The first time we went, it was to see whether a plein air arts festival we'd heard about in this small town could really have the effect some local patriots had claimed.
On later visits, we talked with farmers, schoolteachers, founders of a newspaper, restaurateurs, and others about how the town was trying to use its commuting-range proximity to Davis and Sacramento (on the east) and the San Francisco Bay Area (on the west) as an economic benefit, while retaining its identity as a farm town rather than a bedroom or boutique community. Our most recent visit was late last month, when we joined a celebration for the launch of the Yolo County Library Foundation. (Deb had written about the library's role in the town, in a chapter of Our Towns.)
We also wanted to hear, on this trip, about the farming economy. Practically anything will grow (if irrigated) in California's incredibly fertile Central Valley. For this part of the valley, the most economically valuable crops in recent years have been walnuts and almonds, for which there is huge demand around the world.
When we first visited five years ago, the main question for the area's nut-tree farmers, and for California's agricultural economy as a whole, was whether the state's drought-ravaged water supplies could support such commercially valuable but water-intensive crops.
We talked with scientists, environmentalists, regulators, and farmers about the effect of climate change and water supplies on America's most agriculturally productive state. In Our Towns, I described one walnut farmer who was trying a radically sustainable approach. A sample:
Russ Lester, a nut-tree farmer, was born in the 1950s in a part of the state then famous for its fruit and nut orchards, and now known as the Silicon Valley.

"The Santa Clara valley, where we had our farms, was known for its incredible prunes and apricots and cherries, and was called 'The Valley of Hearts Delight,' " he told us, when we visited him and his daughter on their walnut farm outside Winters. "Obviously that's all changed—it kind of looks like L.A. now."

Lester is a stockily built, balding man with an inviting smile, who wore blue jeans, running shoes, and a California surf-shop T-shirt as he walked us through the orchards.