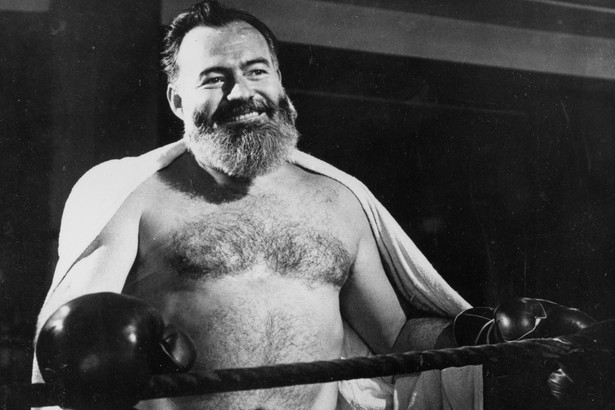 The question of what one would do with a time machine—which is a terribly interesting one among, at the very least, 18-year-old boys—often provokes an answer variating on the theme of going back to a historical hero's heyday to meet him face to face. My own answer, at 18, was one of these: I wanted to go hang around outside the old Scribner's building with a couple pairs of boxing gloves and challenge Ernest Hemingway to a fight. So many of his stories, and so many stories about him, involve teaching a lesser guy to box. He gave lessons to Fitzgerald. I figured it made me sound macho and cultured at once.
Eighteen-year-old-me's answer was not as clever as he thought it was, but it was also more clever than he intended it to be. Because at that stage one wrestles with the central question of what kind of thing to become, and in Hemingway—who lived largely, dangerously, often violently and drunkenly, and, it must be admitted, stylishly—there was a ready-made template for what a man should be.
The dictates of this traditional masculinity are ill-defined but strict: First, make a scene. Be big, be brash, do physically courageous and dangerous things. Violent things. Be a spectacle in your actions, but in your thoughts and feelings, inscrutable. Insensitivity to pain and fear in the physical sense is but one side of the coin, and the other is that hallowed quiet strength, the cowboy mystery. Simplicity. Never admit a feeling you can't control, or an unseen pain you can't handle. More tersely: Blood yes, tears no.
In an octave called "Ernest" that came to me by way of Paul Hendrickson's magnificent biography, Hemingway's Boat, Malcolm Cowley teased out the problem with the form of masculinity Hemingway exemplified.