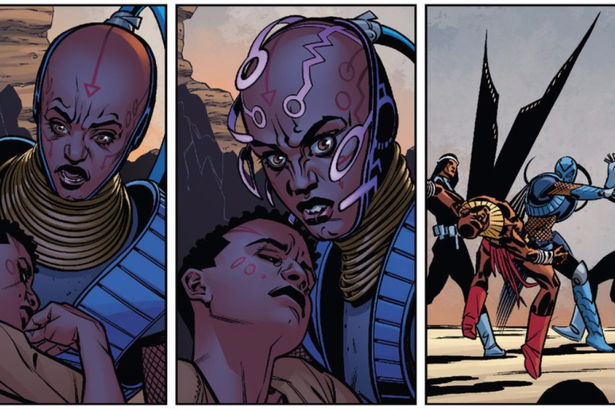 (Editor's note: These questions from Atlantic readers—in bold—and replies from Ta-Nehisi were compiled from an "Ask Me Anything" he did with the TAD group on 1/12.)
As someone who's largely a DC [Comics] reader, Black Panther is effectively my first real introduction to the character. What immediately jumped out at me was the dialogue. It feels a bit different from most comic books (in a good way!), and I look forward to seeing what happens in it down the road. Is there any other comic book you'd love to write? Or do you think Black Panther might be it for you?
I expect to be on Black Panther, or BP-related things, for a while.
How would you like to see the Black Panther series (and world) grow and change? Any inclusion of other, missing characters? What would they be?
Want it to get bigger. Much, much bigger.
When discussing writing Black Panther, you've talked about the need to disregard fan opinion on some level to work toward the goal of creating work that will hold up five or 10 years from now. As the stories you're writing have progressed, has the fan reception of your work changed that outlook for you or confirmed it?
Still believe it. I don't want artists making work that they think I want to see. I want them to pull from their heart, and if I love it, I love it. If I don't, oh well.
Where does feminism intersect with your work? Does it at all?
Right now, it's most prominently in my comic books. I don't want to blow the story, but basically one of the main threads is a revolution launched against the main character. The facts of sexual plunder, a society ignoring that plunder, and the fact of resistance to it, basically runs through every issue.
And that is how it's manifest in its least subtle ways. I think in a lot of other ways, it's much more subtle, but there. Snuck in an Audre Lorde citation in the last issue.
I don't expect everyone to read comic books, so if folks aren't seeing this, it's cool. But it is there. Here's a good summary of the early stuff and the most obvious aspects of it.
Any specific female writers that you're engaging with right now? (I so vividly remember the days you were reading Southern Confederate female writers.) Who are the female voices that, I dunno, really speak to you and influence the work you're doing on the comics? I know that Roxane Gay was tapped to work on the prequels.