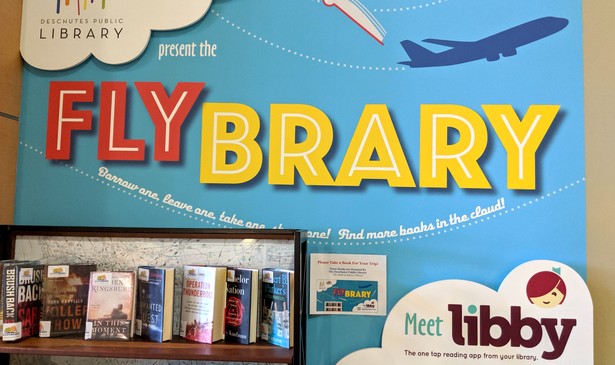 Continuing the photo essay about public libraries, which showed many examples of children's rooms and adult spaces, this collection shows some of the multitude of activities happening at public libraries. It also includes some of the kinds of collections besides books, and some of the public places where books are available to borrow besides at traditional libraries.
Makerspaces are becoming popular in libraries around the country. Some are sophisticated, others modest. Makerspaces harken back to Benjamin Franklin's early days in the Philadelphia subscription library, where he conducted some of his early experiments in electricity. Ben Franklin was the founder, in a way, of modern makerspaces in libraries.
The southmost public library near the Rio Grande in Brownsville, Texas, has an observatory that is used occasionally. The library also hosts movie-and-popcorn events for children who are incarcerated in detention centers alone after having crossed the border from Mexico to Texas.
The modest makerspace inside the Dodge City, Kansas, library. It was put together by a young librarian who grew up across the street from the library. He has gathered mostly people's cast off items, like sewing machines and audio recording equipment.
Learning the ropes in the maker space at the Washington, D.C., Martin Luther King Jr. Memorial Library. The library is currently under renovation.
Kids' activities are held after a summer science program in the Dodge City, Kansas, library. The library invited a traveling program from Wichita. Middle schoolers helped herd the littler kids around the "challenges" after the program. There were hundreds of people participating.
Here's an entry from an art competition at the Greenville, South Carolina, public library. This was sponsored by the local Michelin company, and the requirement was to use old tires in the creation.
Attention Walmart shoppers: This building is now home to the McAllen, Texas, public library. The internal space is vast, enough for exhibitions and receptions. The external space boasts plenty of parking and room for concerts, catered by local food trucks.
Libraries catalog much more than books. When some people are looking for somewhere to donate their treasures, or others can't bear to simply trash their memorabilia, they think of the library. At the A.K. Smiley Public Library in Redlands, California, archivist Nathan Gonzalez addresses some of the vast holdings donated by residents of Redlands. The town is in the process of building the first Museum of Redlands, populated largely from the outgrown archives of the library, and which the library will oversee. The library already oversees the Lincoln Shrine, an entire building of a nationally-renowned collection of Lincolniana, just across the lawn from the Smiley library.