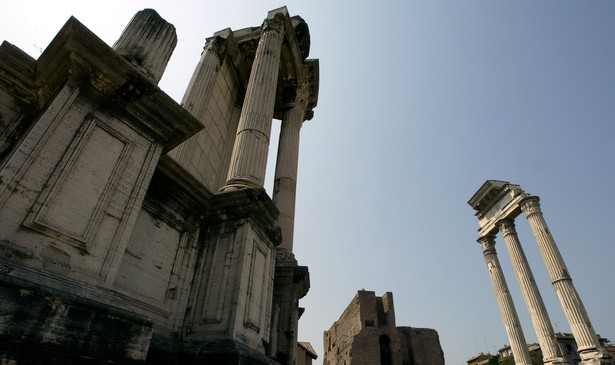 A year ago, I published a piece in the print magazine about that long-standing object of American fascination, the Roman Empire. Usually, and usefully, Americans have over the centuries looked to Rome for guidance on how their nation could avoid the predictable slide from republic to empire to conquest and dissolution. My favorite in this genre is the wonderful 2007 book Are We Rome?, by my friend (and Atlantic colleague) Cullen Murphy.
But for last year's piece I discussed some other books, arguing that what happened to Rome after the fall of the Western empire is what Americans should be studying. Especially in this era when central government—leadership on the imperial scale, you might say—was faltering, and when our counterparts to the Roman provinces (that is, our cities and states and regions) were by comparison so much more practical-minded and functional.
My friend Eric Schnurer, who has worked in and written extensively (including for The Atlantic) about governance at all levels, wrote a response that highlighted some additional areas of useful comparison between the America of our time and the Rome of yesteryear. Now he is back with an extension of his argument. He calls this dispatch "From Sulla to Sullen: What the Fall of the Roman Republic Tells Us About Where Trump Is Taking Us." I think it is instructive and worth reading, and with his permission I quote it below.
Schnurer began by directing attention away from the end of the empire, and instead to:
… the approaching decline of the Roman Republic, a half-millennium earlier.  As I wrote last year, "the increasing economic inequality, the increasing political polarization, the total eclipse of 'the greater good' by what we'd call 'special interests,' the turn toward political violence" all  looked "a lot like the present moment to me." I was thinking of the period dominated by the attempted reforms of the Gracchi brothers—a tag-team somewhat analogous to Bernie Sanders and Elizabeth Warren —roughly a century before the Republic's ultimate fall into dictatorship.

I hardly expected then that within about half a year, Donald Trump would manage to fast-forward the country through half a century of Roman history, to the doorstep of the Civil Wars that destroyed what little was left of Republican Rome.

Of course, no historical analogy is exact. The collapse of the Republic was brought on by a combination of structural flaws in its politics and governance, and the self-serving ambitions of ruthless individuals that exploited them. While the causes were many, inter-related, and complex, at their root was a system that defied any notion of the common good and was devoid of political means to resolve rather than exacerbate division.

The Republic was the creation of a tight-knit oligarchy that had overthrown the preceding monarchy and, as a result, held a deep-seated determination never again to allow any one individual to accumulate so much power as to overawe all others.  

The solution was not so much a separation of powers, as we conceive of it—officials simultaneously played executive, legislative and even judicial roles—as a vast multiplicity of individuals who could hold their posts only once, and for only a year. But this was no "citizen's republic":  A small coterie of privileged families held almost all these offices and voting was severely limited.

Moreover, the term republic—from the Latin for "a thing of the public"—was meant to distinguish it from a monarchy, which was essentially the personal property of the ruler in which other people simply happened to live. But the Roman Republic was more like what we might think of as a "publicly held corporation" and, essentially, treated as private property. Officials used public office to profit personally and directly (and openly).

Of course, it takes money to make money, so only the very wealthy could afford to pursue these rewards because, along the way, they were expected personally to pay for the lavish spectacles, such as the famous gladiatorial games, that sated the public, as well as major public works and public building projects. The Roman state, in short, while ostensibly "public," had long since been thoroughly privatized.