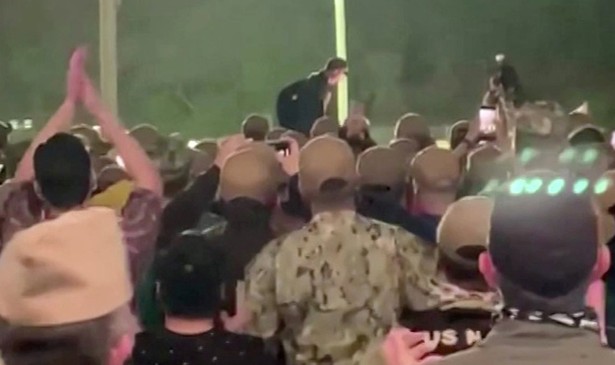 Two days ago I wrote about Captain Brett Crozier, who as commander of the USS Theodore Roosevelt urged his Navy superiors to let him take his ship into port, because the coronavirus was spreading rapidly among his 4000-plus crew members.
Two updates since that report: First, there is now additional video footage from the Australian Broadcasting Corporation, of how crew members cheered Captain Crozier when he left the ship after being "relieved of command."
Second, I should have pointed out that Thomas Modly, the acting secretary of the Navy who dismissed Crozier, was in that role because his predecessor, Secretary of the Navy Richard Spencer, was forced out of that job when he resisted Donald Trump's efforts on behalf of Edward Gallagher, the former Navy SEAL who was prosecuted for war crimes in a court martial. (The Trump administration is replete with "acting" officials, who can exercise some of the powers of their offices without going through Senate hearings or confirmation.)
Now, relevant reader response. First, from a reader with a family member aboard the Theodore Roosevelt:
My husband is currently serving on the Roosevelt. Many family members have been reaching out to their respective ombudsmans to ask for a way to get in contact or relay our support for Captain Crozier and we have been all been told the same thing—they "don't know"  how to get in touch with him.

We are not to speak to the media regarding anything going on with COVID-19. In fact, we have been getting "updates" (I use that term very loosely because 'update' implies difference or a change in information, which is very much not the case) for weeks about the illness spreading throughout the ship and how we are NOT to discuss anything with the media. Which, given Operational Security requirements, is fair but also indicates leadership knew about the spread of the Coronavirus far earlier than what is being portrayed in the news.

Anyway, I have a simple ask: On behalf of the families of all on board the USS Roosevelt can SOMEONE just tell the man that we appreciate what he did to make sure our sailors and marines come back to us in one piece? Captain Crozier risked his career and did what he thought was best to get the resources they needed. The acting SEC NAV, who amounts to a little more than a modern day mercenary (you know, on account of forgoing his national service for profit in the private sector), railroaded CAPT Crozier and it's an absolute disgrace.

We just want to say thanks and let him know we support him. It shouldn't be this hard to get that simple message across.

Thanks for reading and please don't publish my name or email address. We've seen how the Navy "doesn't like to punish" people about stuff like this.
---