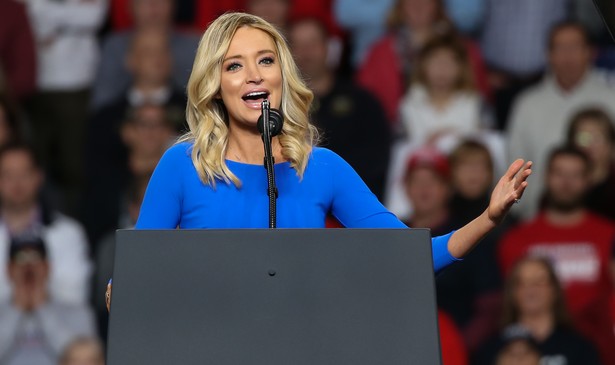 This week Donald Trump announced the departure of a press secretary who differed from all predecessors in a basic way: She didn't do the job.
In more than eight months in office, this press secretary, Stephanie Grisham, appeared frequently on Fox programs but never once held a White House briefing for reporters. Three of her predecessors in the Trump era—Sean Spicer, Anthony Scaramucci, and Sarah Huckabee Sanders—appeared often enough in the White House press room for their briefing styles to become the basis for Saturday Night Live cold-open routines. (This was before Sanders suspended briefings in her final months on the job.) Grisham's briefings couldn't be mimicked, because they didn't occur.
Her successor will also be someone who differs from anyone who has held the job before. The new secretary, Kayleigh McEnany, will be the first press secretary to begin the job with a bone-dry reservoir of trust and goodwill from the press.
---
Through the modern history of this job—which probably begins with Steve Early, spokesman for Franklin Delano Roosevelt through most of his long years in office—press secretaries have been in an impossible situation. They need to be discreet enough about an administration's internal dealings that the president will still trust them. But they also need to be open enough that reporters will still think the press secretary is trying to get them closer to, rather than farther away from, the truth. They need to speak "the truth," to maintain trust and respect from the press. But not "the full truth"—not every single detail they know—to maintain trust from the president and other officials.
Finding the "right" position is a day-by-day struggle. If a president can't trust a press secretary to keep some things quiet, then the secretary will be left in the dark, away from the White House inner circle. Then if the reporters realize that a press secretary is an outsider, his or her influence practically vanishes. But if reporters find out later on that a secretary was withholding information that could have been shared—or, worse, sending false signals—then the damage to the press secretary is even worse.
In the days before Trump, awareness of this struggle is what distinguished the best press secretaries. Some of them come straight from jobs on "the other side" of the press/politics divide. For instance, Jay Carney went from Time magazine to become an Obama press secretary; Ron Nessen was an NBC News correspondent and then worked for Gerald Ford. Some are longtime aides and confidants of a president. Jody Powell, a young campaign staffer, represented Jimmy Carter as press secretary, and Bill Moyers played a similar role with Lyndon Johnson. Some are "public affairs professionals," who have done this job in other circumstances. For instance: Dana Perino, who became press secretary at the end of George W. Bush's time in office, or Marlin Fitzwater, who worked for Ronald Reagan and the first George Bush.
They came from different backgrounds, but all these previous press secretaries tried to strike the balance between giving out too much information, and not enough.
---
Under Donald Trump, only one press secretary seemed even to recognize this challenge. From day one, the unfortunate Sean Spicer was stuck trying to defend "largest Inaugural crowd in history!" claims. Spicer's awareness of his preposterous position was the most appealing thing about his brief time on the briefing-room podium.
With Sarah Huckabee Sanders, the struggle abated, since her remarks were aimed at a one-person audience, Trump himself. Stephanie Grisham avoided the tension by not dealing with the press at all, and confining herself to Fox. Kayleigh McEnany is one more step down this road, since her background as a public figure was as a cable-tv "panelist" during the 2016 campaign, where her role was not to express a "conservative" or even GOP-loyalist perspective but instead to defend whatever it was that Donald Trump had done or said.
As Caleb Ecarma pointed out this week in Vanity Fair:
McEnany, like her press-bashing boss, [has taken every] opportunity to attack the news media. "The media's best hope is for Donald Trump to suspend his rallies," she said. "They have been wanting him to stop this, they know it's his avenue to speak directly to the American people. So we're going to follow the president's lead, we're not going to cave to the media and Joe Biden."

There appears to be nowhere McEnany isn't willing to follow Trump, even dating back to his conspiracies about Barack Obama's place of birth. In 2012, when Trump was accusing America's first black president of being born in Kenya and was thus ineligible to serve, McEnany chimed in support of the unfounded theory, tweeting, "How I Met Your Brother—Never mind, forgot he's still in that hut in Kenya. #ObamaTVShows."

In a 2016 CNN segment archived by Media Matters, McEnany stepped out to defend the then-candidate's infamous "Grab 'em by the pussy" hot-mic moment, shrugging off the remark as "implie[d] consent." [JF note: I wrote about the "grab 'em" episode at the time, here.]
Every press secretary has ups and downs in his or her relationship with the media. They add to their store of trust in certain moments; they run it down at others. The struggle between duties to the president and to the public, between saying too much and saying too little, defined the job.
Now the struggle is over. No previous press secretary has started the job with no cushion of credibility whatsoever. That's where this one begins.