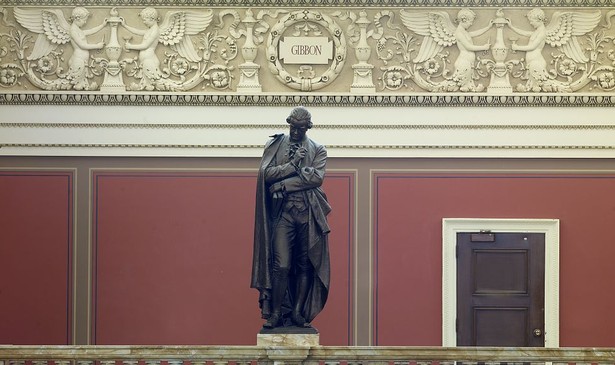 The new issue of the print magazine contains a story by me called "The End of the Roman Empire Wasn't That Bad."
The title (which, like most titles, I didn't write) represented (like many titles) intentional overstatement-for-effect. But the point of the piece was to suggest that maybe Americans should shift the way they talked and thought about the Roman Empire as a metaphor for this country.
For as long as there has been an American republic, some Americans have worried about its impending Roman-style decline and fall. I said: What about the time after Rome fell? What could we learn by imagining ourselves in our version of the Dark Ages—with a failed system of central governance, and life going on at the duchy-by-duchy, monastery-by-monastery level, which for us would mean cities, states, and regions?
You can read the whole thing yourself—and it isn't even very long.
Readers have weighed in with a range of views.
In this first roundup, I'll highlight only critical ones. You'll see some common themes here, expressed with clarity and erudition that make it a privilege to reach this kind of readership—even when, as now, they're giving me a hard time writing in to disagree. I'll have a brief response at the end.
Let's begin:
Not "transition" but "collapse." From a reader in an academic post:
Oh my, you dove into a nasty controversy here. While scholars like Peter Brown and Walter Goffart make an  interesting case about "transition," people like Bryan Ward-Perkins have made what I think is a more compelling case about "collapse of civilization."

A few things to keep in mind—and on these no one debates:

Population fell. That is a vaguely neutral sounding term, but that is shorthand for murder, rape, starvation, and disease.
Literacy diminished dramatically or was largely lost.
Material possessions diminished in quality and quantity. People were poorer.

I know you are on a pitch about the renewal of our country at the local level. I think that is wishful thinking, but whatever. But the Roman example is a doleful one. Yes, some institutions thrived, but people didn't. They became poorer, less secure, and less literate.

Seeing the Fall/Transition of the Roman empire as anything other than a human catastrophe is an interesting academic exercise, but let's keep it at that.
---
"The roofs have rushed to earth, towers in ruins."  From another reader, who in his day job is a successful software designer. (This is Mark Bernstein, of Eastgate, designer of the program Tinderbox and long-ago guest blogger on this site, when "guest blogging" was a thing.)
The indispensable book on the end of Rome in the West is Bryan Ward-Perkins, The Fall Of Rome and the End of Civilization.  It's a very short book, it's important, and it's fun to read.

One key observation: in the 4th century, an impoverished Italian shepherd ate his dinner on imported tableware, drank imported wine and seasoned his salad with imported oil. He covered his roof (and maybe his manger's roof as well) in mass-produced roof tiles. In the 6th century, the proudest possessions of kings were fancy safety pins, and their palaces were wooden halls with thatched roofs. In the years of the Empire, Rome imported so much olive oil that the 53 million decommissioned amphorae now form the hill of Monte Testaccio. In the eighth, kings made do with whatever the local brewers could manage, and poured for their guests from decorated beakers made next door.

In the fourth century, Romans built the Old St. Peters and repurposed the Lateran; it's been through lots of rebuilding but the Roman building was about the modern size.  It's big. In the sixth century, they built Santa Maria In Aracoeli—a small building, constructed on some of Rome's prime real estate out of mismatched scraps and bits of junk. The junk was nicer than anything money could buy.  And they built S. Agnese fuori-le-mura, which is the size of a nice house.

A Pompeiian perfume-seller left us long brothel graffiti as a tribute to a lovely evening. Lots of poor people left us graffiti. Charlemagne never quite managed to learn to write.

To the best of my knowledge, we know too little about what happened to North Africa in this era. It wasn't pretty. In the second century, North Africa was a real economic powerhouse and a huge food exporter. The irrigation system was wrecked in battles over tax cuts for wealthy estate-owners, and that was that. It was an ecological disaster that made the Western Empire unsupportable.

---

I'm not sure that the delocalization of governance in the West is an encouraging lesson, either. Yes, there were bright spots—Lindesfarne, Kells, Aachen, Kyev—but they were bright in contrast to the prevailing misery. Look at the opening of The Ruin (trans. Aaron Hostetter https://anglosaxonpoetry.camden.rutgers.edu/the-ruin/):

These wall-stones are wondrous—

calamities crumpled them, these city-sites crashed, the work of giants corrupted.

The roofs have rushed to earth, towers in ruins.

Wrætlic is þes wealstan, wyrde gebræcon;
burgstede burston, brosnað enta geweorc.
Hrofas sind gehrorene, hreorge torras,

Whoever wrote this knew more than we about what living in the 8th century was like, and he seems pretty certain that things had once been better than they were.
---