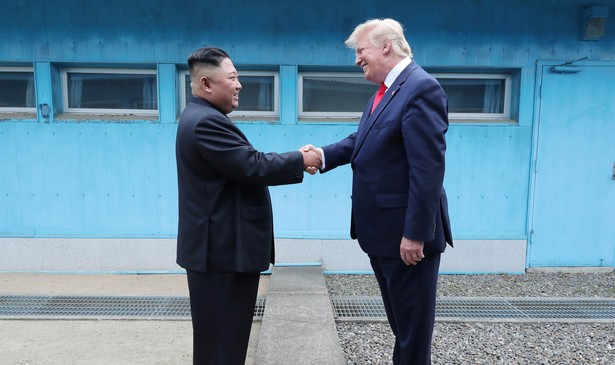 It's been barely two weeks since Donald Trump became the first American president to step onto North Korean soil, with all attendant theorizing about what the move meant, or didn't. Was it the "biggest moment of the Trump presidency so far" and "already a political win," as some media figures claimed? Was it, on the contrary, another sign of Trump's "dictator envy" and "authoritarian buffoonery"? Was it a move toward peace—or war, or both, or neither, or simply more uncertainty? Who was outwitting whom?
Although it was just two weeks in the past, that moment feels like two centuries ago, given the nonstop series of crises and "Breaking news!" emergencies since then. For instance: the census showdown; the Jeffrey Epstein/Alexander Acosta disasters; the leaked British ambassador cables; more rumblings about Iran and China; the horrors of migrant-detention-camp conditions; and the long-threatened kickoff this weekend of ICE roundup raids.
Today I got a reminder note from a reader who had written in just after that "historic" encounter at the Korean DMZ. He argues that the uninterrupted torrent of (usually Trump-generated) emergencies since then reinforces the point he originally made.
His point involved a structural failure of analysis in the Trump years. That is: The people most accustomed to "analyzing" political actions and decisions—journalists, historians, political veterans, people who pride themselves on figuring out what is "really" going on—are the ones least able to recognize what the world is experiencing with Donald Trump.
This is obviously not a brand-new insight. But the reader states the case trenchantly enough that I think it's worth sharing. Two weeks ago, after the Korean episode, the reader wrote:
I had an epiphany sometime around the midterms, after about 2 years of watching and reading heavy duty analysis by so many serious folks who, because it's their job I suppose, tend to *project* seriousness, intent, thought, strategy, forethought, planning, and other such things, each time Trump does something. No matter how loose the cannon gets, most serious journalists default to a polite interpretation that suggests, say, Trump had something in mind when he just did that ridiculous thing.

Put another way, they're suggesting he's crazy like a Fox, not just an idiot.

At some point I found myself trying to explain to a friend why Trump did something kooky. As I considered everything I concluded what he was doing was strictly for the attention. It was for one news cycle. No strategy, no planning, no idea about implications. And no intention of following up even a day later.