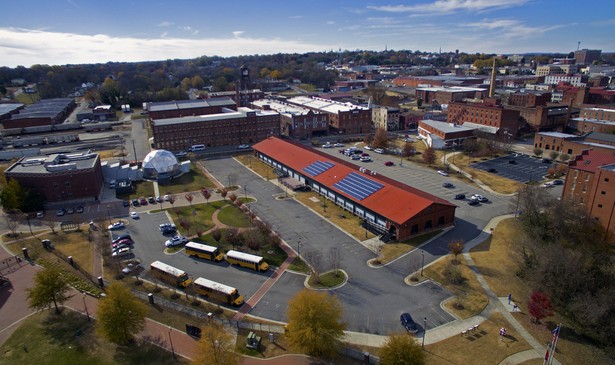 Previously in this series: why the ups and downs of economic history have left the southern Virginia town of Danville with a genuine problem (what to do after its big mills closed), but also a significant advantage (the physical infrastructure that those old tobacco and textile sites left behind, much of it quite beautiful.)
Years ago, on the first reporting visit that my wife, Deb, and I made to Sioux Falls, South Dakota, I mentioned that the city seemed strangely "over-retailed" for a place of its size. That is, it had a super-abundance of malls, professional offices, restaurants, and other facilities. Why? As we learned, these reflected Sioux Falls's emergence as the service-and-retail center not just for its own population but for the broad surrounding area.
In a similar way, Danville can now seem strangely "over-warehoused," with more century-old large, stately brick structures than you would expect for a town of some 40,000 people. The buildings sprang up in Danville because it was so prosperous a trading and manufacturing center from the late 1800s onward. And they survived largely because the city became so economically troubled that no one could afford to tear them down.
Now many of them are being revived, reoccupied, and put to new use, as previewed here. The center of the activity is the "River District," on the southern bank of the Dan River near the Main Street bridge. Decades ago, this was a center of tobacco trading and the textile business. One of the enormous factory buildings for Dan River Mills, known as the "White Mill" and abandoned for years, sits not far away.
"If you were here ten years ago, it would have been obvious that we were a mill town without a mill," Rick Barker, a Danville native and entrepreneur who is now a downtown developer of historic properties, told me this month. "Now we're becoming something else."
What is that something? The purpose of this dispatch is to give a few  illustrations of a city in the middle of becoming, and some brief background on work that's been done and work that remains.