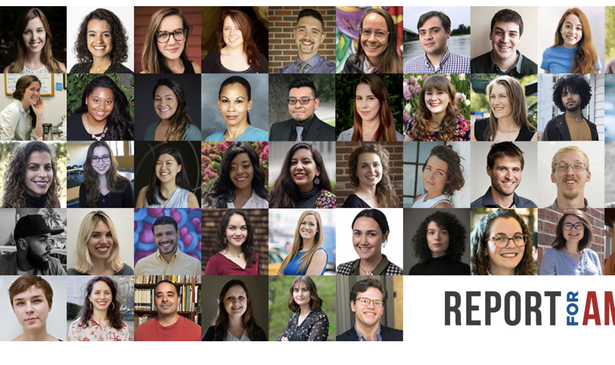 Because I'm not a politician, I don't have to wear an American-flag lapel pin. (I've never seen a photo of, say, Dwight Eisenhower, or FDR, or JFK, wearing a flag pin. Richard Nixon did it occasionally, in the Vietnam War era. It became de rigueur for public figures some time after the 9/11 attacks of 2001.)
But this is the story of a pin I've started wearing recently. The pin says Report for America, as you can see below. You could read those three words as an imperative-mood reminder of what people in the journalism business are supposed to do (at least the Americans). They also represent a promising movement, in discouraging times.
The fate of local news looms very large in the fate of smaller-town America:
Cities and regions need to hold their business and public leaders accountable. National news is not going to do that for them.
They need to understand what Deb Fallows and I have called "the civic story": what makes this town different from others, what challenges it's gone through and what opportunities it might seize, and where it stands on an arc that might lead to a more promising future. Only their local publications will help them refine and share those stories.
They need simply to have a forum for connection: What businesses are opening (or closing) in the town, what people are moving in and out, what opportunities there are for children, older people, those interested in music or sports or history or gardening.
Independent local publications are of such tangible importance that (according to a much-noted academic study last year), bond ratings go down, and the cost of issuing bonds goes up, for cities or counties that don't have viable local newspapers.
Yet nearly every place we've gone, we've heard about the economic pressures on local newspapers, websites, and other publications as being even worse than those weighing down the press as a whole.
---
Which brings us to: Report for America. Earlier this month, in Houston, Deb and I met the 60-plus young men and women whose photos you see at the top of this item. They're part of the second "corps" of Report for America members headed to newspapers, broadcast stations, or other news sites mainly in rural or small-town America, where they will add coverage on issues that will shape those communities' futures.
Last year, for its first corps, Report for America sent out a total of 13 reporters. This year, more than 60. Next year it's aiming for 250, toward a goal of 1,000.
The Report for America project is part Peace Corps, part Teach for America, part something entirely new. No one innovation or source will in itself be the answer to local journalism's crisis. But a lot of experimental approaches might add up to an overall answer—and Report for America has the potential to be an important part of that solution. (For the record: Deb and I have no connection with RFA except being given the lapel pin and some RFA-branded reporter notebooks when we spoke at the training session in Houston, plus having known its co-founder, Steven Waldman, for many years.)
What's the Report for America concept? It is—from my perspective—a shrewd combination of short- and long-term incentives and ideas.