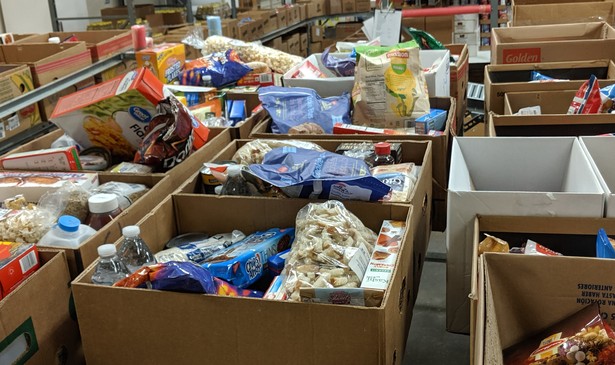 We began the first morning of our recent visit to Danville, Virginia, at an early-bird breakfast with the Rotary Club, where my husband, Jim, and I heard several personal hopes, celebrations, and notes of gratitude from its members, as they pitched bills into the Happy Dollars bucket. One Happy Dollar for good wishes to a son about to deploy with the military; another for a granddaughter, a rainbow baby (Google that), who had made it to her first birthday; two for the boys whom the mom had hauled out of bed to come to the breakfast on their first day of summer vacation.  
After breakfast, we gratefully followed one of the Rotarians to Gatewood Auto and Truck Repair to see Gary, whom we heard was very good and always fair, hoping he could fix the passenger window of our 19-year-old Audi, which was suddenly stuck open. Gary fixed the window, a repair that soon seemed minor compared with the day's second auto surprise, when the bottom shell fell off the underside of the car, right onto the street. (I learned that the official term for this part was the "belly pan.") Thank God for the networks of small towns, I thought, and for Gary Gatewood, and the friendly folks at Mr. Tire, who repaired that belly-pan issue.
I continued a quarter-mile down the road to see Karen Harris, the executive director of God's Storehouse, a food pantry serving low-income people along this southernmost border where Virginia meets North Carolina. On top of their other problems, rural areas that have lost industries and suffered long-term economic decline, like this part of Piedmont Virginia and North Carolina, often have high rates of obesity, diabetes, and other nutrition-related disorders. God's Storehouse illustrates one response. During our travels around the country, we have seen groups in many regions coming together to use strength in numbers to imagine ideas and create effective action around health, economic development, education, the arts, and many other areas.
God's Storehouse is part of the expansive Health Collaborative of the Dan River Region. It includes some 50 member organizations and 90 individuals, who approach the health and well-being of its residents to include not only healthy eating, but also access to health care, an active lifestyle, and inviting places to live, work, and play.
God's Storehouse opened in 1987, a collaborative effort of many faith communities around Danville and surrounding Pittsylvania County. Pooling resources, they figured, would be a win for all.