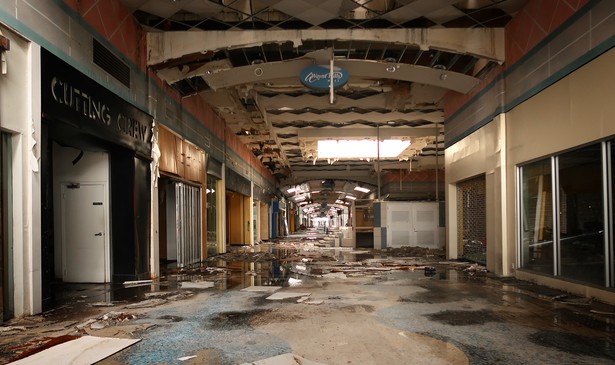 In a report last week from Fort Wayne, Indiana, I noted what I considered the mid-century tragedy of big, sprawling, "modern" shopping malls displacing historic downtowns, only to become bankrupt eyesores after the malls' few decades of fashionability had passed.
The difference between those vintage-1970s big malls and earlier eras' structures is what happened after the businesses inside the buildings died. If a factory from the 1880s, a warehouse from the 1920s, or a corner grocery from the 1940s closed down, in theory the building could be reused and reborn in some new economic role. Deb and I have seen that happening coast to coast: with ex-factories that are now art studios or small-manufacturing zones, ex-bakeries that are now hotels or residences, ex-churches that are now schools or libraries or breweries.
But when a 1970s mall becomes an "ex-" structure, it usually just sits there, sucking life from everywhere around it.
Or so I argued—from my own Boomer-era perspective on American architectural and urban history.
A reader who grew up in New Jersey but went to college in Michigan, Vasav Swaminathan, says I may need to take another leap of generational imagination. He writes:
I'm an older Millennial (born 1986), so I think most of my life is seeing box stores and strip malls give way to "revived" downtowns. I remember hating sitting in traffic as a kid on Saturdays while we went from mall to mall, and much preferring the days we went to Oak Tree Road or Nassau Street to buy things.

Which is to say—I much prefer what we're moving to, reviving the downtown concept, to the old style.

But how did the previous generation feel about the boarded-up downtowns and the big-box stores when they were new?