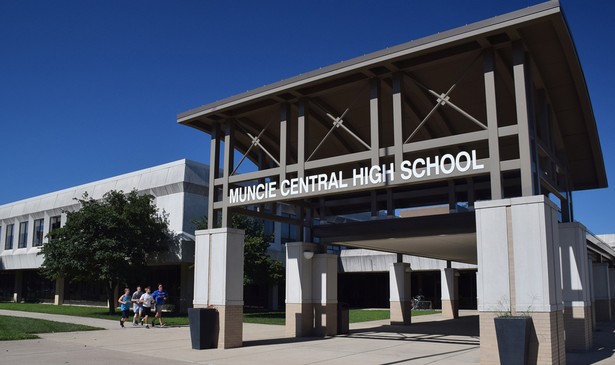 This post is about a development that few people outside the state of Indiana have ever heard or read about, but that has implications for the country as a whole. It's about a highly unusual approach to a highly familiar problem: the economic challenges of public schools. This news comes from America's original "Middletown," the midsize Indiana city of Muncie.
In the preceding installment about Muncie, I mentioned three aspects that surprised Deb and me—and that would have surprised most visitors, given their absence from the national press. One, discussed in the preceding report, was the ambitious geothermal-energy program designed to reduce nearly half the carbon footprint of the city's dominant institution, the 22,000-student Ball State University.
The other two also involve Ball State's interaction with Muncie—in a general way, and with a specific and highly unusual new step. This post is about those two moves.
---
The general step that Ball State has taken is to see itself as centrally involved in the economic and civic development of the city where it is based—rather than viewing Muncie from across the traditional town-gown divide. This is a trend that Deb and I have seen (as discussed here) in other places around the country. Last fall The New York Times had a related story in its business section titled "Universities Look to Strengthen the Places They Call Home." That story featured East Coast illustrations: the University of Maryland's role in College Park, outside Washington, D.C.; Drexel University's role in Philadelphia; and Yale's in New Haven.
At Ball State, this kind of "civic stewardship" in Muncie has been a central emphasis of the university president who took office two years ago, Geoffrey Mearns, who before arriving had been the president of Northern Kentucky University.
"When they interviewed me for this position, I said, 'If you're looking for someone to run a university, I am honored, but I already had a great job,' " Mearns told me when I first spoke with him last fall. Mearns grew up mainly in Ohio, studied English at Yale (where he was a track and cross-country star, eventually running a 2:16 marathon and qualifying for the 1984 Olympic trials), and practiced law for more than 15 years, including nine years as a federal prosecutor. He then shifted into university administration with a role at Cleveland State University.
"But I said that if they were interested in involving the university much more directly with the community, that would be very interesting to me, as well." As a sign of sincerity: Soon after their arrival, Mearns and his wife, Jennifer, donated $100,000 for an endowment to sponsor Muncie Community Schools graduates who would become first-generation students at Ball State.
This kind of interaction would be a change for Muncie, where the university and the city had been for decades co-located but not deeply cooperative. As mentioned earlier, the sociologists Robert and Helen Lynd selected Muncie as the site for their famed Middletown study precisely because it was so clearly a midwestern "factory town" rather than a "college town." But the shift toward involvement with Muncie is a basic part of Ball State's current strategy.
"Our University's future is affected by the vitality and vibrancy of Muncie," Mearns said in a statement to the Indiana legislature early last year, a few months after he started at Ball State. "In short, our fortunes are linked." The title of the current Ball State initiative is "Better Together."
The idea of such a town-gown inevitably linkage is becoming more widespread. The specific implementation in Muncie is practically unique.