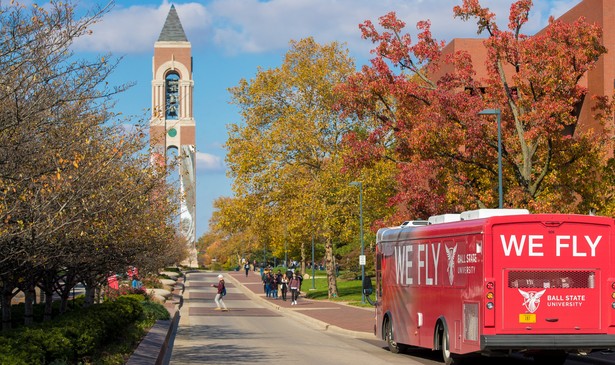 Here is why I think this report from central Indiana matters, for people who don't happen to live there themselves.
What Deb Fallows and I saw in Muncie, Indiana, is as stark an illustration as we've recently come across of a gap with huge implications for America's civic and political prospects.
On one side of this gap (whose existence has been a running theme in this space) is the growing reality of experimentation, freshness, practicality, and often progress in many American communities and regions.
On the other side of the gap is the extremely faint national-level awareness of such developments, or what they might collectively amount to in the years ahead.
For now, in two installments, I'll mention some developments that we learned about on a recent trip to Muncie, Indiana, and that we had no idea of before we visited the town. I will bet that the 98 percent of Americans who don't live in Indiana have not heard of these efforts either, since as far as I can tell, they've rarely if ever been mentioned in the national press.
Ninety-eight percent? Yes: The state's population is about 6.5 million, and the country's population is more than 325 million, or about 50 times as great. By the way, this makes Indiana that rare state with a mathematically "fair" representation in the U.S. Senate. One out of every 50 Americans is a Hoosier, and the two senators from Indiana cast one-fiftieth of the Senate's total votes.
(To illustrate the range among other states: About one American in every 600 lives in Wyoming, and about one in eight lives in California. Each state of course has the same two Senate votes. About one American in 450 lives in the District of Columbia, and they have no Senate votes at all. I offer these numbers not as a veiled complaint: the Washington, D.C., license plate on my car, which bears the District's official slogan, "Taxation without representation"—now that is a complaint. Rather, these are reminders of the way centuries of migration and changed settlement patterns among the states have affected the fundamentals of constitutional architecture. )
---
My goal in this first piece is to introduce the idea of activities worth national notice, which usually escape notice because they are happening "out there." The developments I have in mind from Muncie, in this report and the next, are:
a specific local response to a global challenge;
a conceptual shift that parallels trends we've seen elsewhere;
a major institutional and civic rearrangement that is unique in Indiana and has very few precedents anywhere else in the country.
Deb and I will return to Muncie for further reporting trips. But here is Part One of what we've learned for now.
---
We spent time in Muncie in March as part of the I-69 tour through Indiana discussed in these previous posts: one about the tiny town of Angola, one about the big industrial city of Fort Wayne, and one about the journey as a whole. The trip was a combined project of New America–Indianapolis, of Indiana Humanities, and, for the Muncie stop, also of Ball State University.