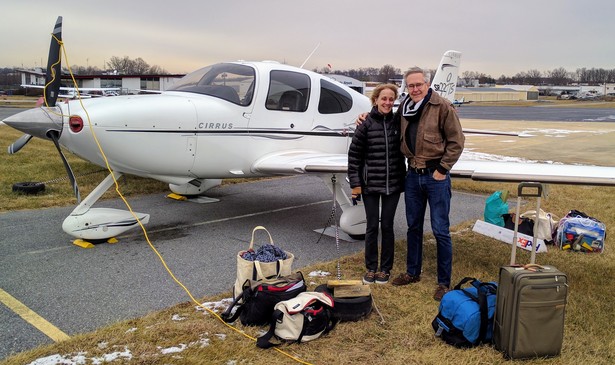 In the summer of 2013, nearly six years ago, my wife—Deb Fallows—and I announced in this space the beginning of a project to visit smaller towns around the country. These were places that usually show up in the news only as backdrops for national-politics coverage, or when some human or natural disaster has struck. Our goal was to report on how schools, businesses, families, and civic life were faring "out there."
Our means of travel, from one small airport to the next, would be our little four-seat, single-engine, Cirrus SR22 propeller airplane—a model that has become the best-selling small plane of its type around the world, because of its built-in parachute for the entire plane.
Early in 2017, after spending most of four years on the road, Deb and I announced in this space that this first stage of the journey was over. We would be flying from our home in Washington, D.C.; down along the Atlantic coast to Georgia; and then across the south and west of the country to my original home in inland California, the small city of Redlands, to write a book about what we had seen. We did so; that book, Our Towns: A 100,000-Mile Journey Into the Heart of America, was published in 2018. It drew on what we had found, learned, and described in hundreds of web posts and several articles for The Atlantic through the preceding years.
Now we're beginning the next stage of the journey. In this space over the coming months, we'll be posting a new set of reports, from an additional set of towns, about a new set of developments and a new range of possibilities for locally based renewal efforts around the country.
---