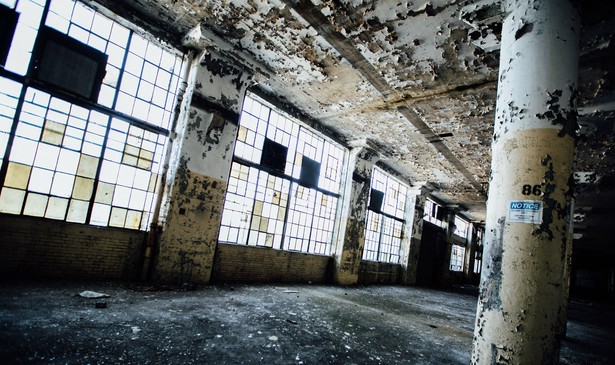 Today's theme: what happens to buildings, after they die.
Today's locale: a major manufacturing center along Indiana's I-69 corridor, the industrial stronghold of Fort Wayne.
---
The second lives of buildings—or third, or fourth or tenth—after they've outlived their original economic or civic purpose, is a topic that has commanded Deb's and my attention more and more, with each new American venue we spend time in.
If a city is unlucky—or shortsighted, which often turns out to be the same thing—it bulldozes its architectural heritage of the past decades or centuries, for whatever is the fad of the moment.

This happened, disastrously, to my small home town of Redlands, in inland Southern California. In the late 1960s, when freeway-based sprawl-malls were just beginning to hollow out downtown retailers, a short-sighted city leadership made a choice that the city has yet fully to recover from. It approved razing about half of the downtown's historic business structures—shops, civic clubs, a famed 1930s-vintage hotel—to make room for one of that era's Brutalist/penitentiary-style in-town malls, surrounded by parking lots. Nearly 50 years later, that mall stands abandoned and bankrupt, its only activity a national-chain drugstore that clings to its long-term lease. (For locals: I'm talking about the former State Street west of Orange Street; the structures on State Street east of Orange were spared.)

Meanwhile, the other half of the Redlands downtown, the part that was spared the wrecking ball, went through its 1970s and 1980s of hard commercial times. But the buildings survived; starting 10 or 15 years ago they began attracting new activity; and now they constitute one more of the nation's vibrant smaller-city downtowns, working around the decayed molar of the mall.

Time and again we've seen evidence of cities that made the same mistake. Here's an easy way to spot them: When you see a break in the downtown architecture of a mid-sized city—when a classic early-20th-century office building, or an Art Deco facade from the 1930s, suddenly gives way to a multi-level downtown parking garage—odds are you're seeing the physical legacy of civic short-sightedness half a century ago.
  
If a city is luckier, or if it was less energetic in the mid-century build-a-mall era, it will have left its original architecture in place. The shops may have been boarded up or concealed beneath aluminum siding. They may be doing duty as pawn shops or worse. They may seem beyond hope. But as long as they exist, they lie waiting and full of potential, like wildflower seeds in the desert waiting for the eventual rain.

The Main Street America project, which is based in Chicago and originated with the National Trust for Historic Preservation, keeps a master list and coordinates downtown renewal efforts. We've seen examples from South Dakota to Kentucky to Oregon to Florida, and places in between. (For instance: our previous report, on Angola, Indiana.)
  
If a city is willing to make its own luck, and is foresighted, it will begin purposefully refitting its old structures for new roles. This has become a nationwide trend. In the fastest-growing big tech centers, practically any structure that was once a warehouse or a machine shop has returned as a new office space, startup zone, hotel or condo, or brewery or restaurant.

It is happening in smaller places too. Five years ago, our colleague John Tierney wrote about the reincarnation of the old Mack Truck works in Allentown, Pennsylvania, as a research and startup center. Not far from Allentown, in Bethlehem, the spookily beautiful abandoned Bethlehem Steel works have become a concert center and arts venue. Something similar has already happened in Birmingham, Alabama, with the former steel mill known as the Sloss Furnaces; and is underway in Danville, Virginia, with former tobacco warehouses (on the model of Durham, North Carolina, with the old American Tobacco works); and is envisioned in tiny Eastport, Maine, with what had been the East Coast's biggest sardine cannery; and on through what could be an endless list.

Former places of worship whose congregations have dwindled are also undergoing this process. Yesterday I mentioned how a former church in Angola, Indiana, has been converted into a new performing arts center. The ambitious Jefferson Educational Society, a civic think-tank in Erie, Pennsylvania, has its headquarters and public events in a former synagogue. The St. Joseph brewery, in Indianapolis, operates (and seats patrons) in what was once the St. Joseph church.  
Fort Wayne is now attempting to make its own luck, with the remains of what had been its grandest industrial site.