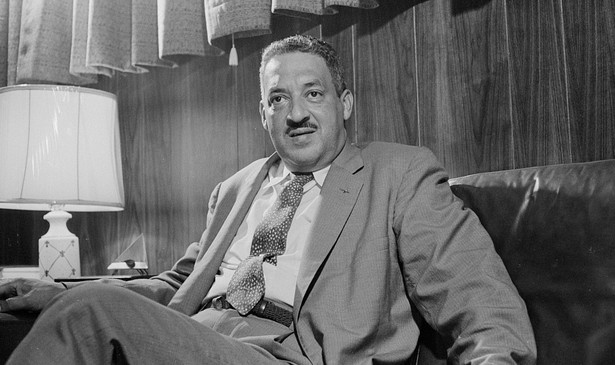 The most cynical decision George H. W. Bush made as president was to nominate Clarence Thomas to the Supreme Court.
The choice was cynical because of Thomas's race. In 1991 Bush had a vacancy to fill when Thurgood Marshall—the first African American ever to sit on the Court, the man who had successfully argued the historic Brown v. Board of Education case before the Court as a lawyer for the NAACP—decided to retire.
Clarence Thomas's views were the opposite of Marshall's on just about every front, as Juan Williams (then of the Washington Post, now best known from Fox News) explained in an Atlantic profile several years before Thomas's nomination. But Bush knew that liberal critics of Thomas's conservative views would be in a bind. If they opposed him—a graduate of Yale Law School, who had started out as a poor child in the segregated South—they would of course be blocking a black successor to America's first-ever black justice.
Thomas himself left no doubt about this framing of events, saying in his opening statement to the Senate Judiciary Committee that criticism of him had amounted to a "high-tech lynching for uppity blacks who in any way deign to think for themselves."
Bush's cynicism came through in his announcement of the Thomas choice,  implausibly claiming that "the fact that he is black and a minority has nothing to do" with the selection. The only reason for the choice, he said, was that Thomas was "the best qualified [candidate] at this time."
The "best qualified" claim was risible. Thomas was 43 years old and had spent only a year-plus as a judge. In an editorial opposing his confirmation, The New York Times said:
If the Thomas nomination is to be judged on the merits, it fails.

The fault, in the end, is not that of the nominee but of the man who nominated him … By nominating this black conservative, President Bush serves a narrow partisan interest when the public has a right to expect him to nominate a lawyer or judge of proven distinction."
But of course Thomas made it through a bitter confirmation process. He won approval from the Senate on a vote of 52-48 and took what had been Thurgood Marshall's seat at age 43. He is only 70 years old now and conceivably could be on the Court through several more presidencies. Already he has been a fifth vote in such history-changing 5-4 decisions as Citizens United in 2010 (which ushered in nearly limitless money in politics); Heller in 2008 (which ushered in the novel concept that Second Amendment protection for a "well-regulated militia" extended to any individual who wanted to own firearms); and Bush v.Gore in 2000 (which ushered in  … )