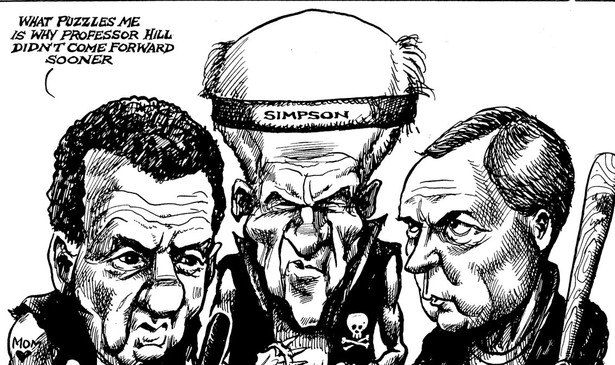 At the moment, in mid-September—with no way of knowing how the midterm elections will go, or what legal entanglements lie ahead for Donald Trump—we do have one possible gauge of how far the politics of 2018 have actually deviated from previous norms.
It involves the prospects for Brett Kavanaugh's nomination to the Supreme Court.
Through post-World War II political history, there have been distinct moments when a nomination curdles, or sours—and when the assumption shifts from likely approval, which is the starting point for most selections by most presidents, to likely failure.
In 1987, Ronald Reagan's pick to succeed Lewis Powell on the Court, a 41-year-old federal judge named Douglas Ginsburg, withdrew from consideration less than two weeks after he was announced, because of an (unbelievable in retrospect) controversy about marijuana use. The complications of sticking with him were piling up too fast. (Previously Reagan had named Robert Bork for this seat; that nomination went down, after a bitter fight, by a 42-58 vote, with 58 voting against him. After Ginsburg bowed out, Reagan turned to Anthony Kennedy—whose retirement this year opened the seat Kavanaugh would hold.)
In 2005, George W. Bush's pick to succeed Sandra Day O'Connor on the Court, a 60-year-old White House staff official named Harriet Miers, withdrew from consideration three weeks after she was announced, in the face of Democratic criticism about her lack of judicial experience and Republican doubts about her policy views. The fight to defend her seemed not worth the cost. (Samuel Alito was eventually confirmed for this seat. )
In 2009, Barack Obama's pick as the new Secretary of Health and Human Services, former Senate Majority Leader Tom Daschle, withdrew from consideration two weeks after Obama was sworn in, because of (again penny-ante in retrospect) questions about his failure to declare use of a private-car service as taxable income, and related personal-finance issues. Losing him hurt Obama badly, but at the time the fight to keep him seemed likely to hurt more.
Anyone who has been around politics has seen similar episodes, when opposition starts cresting, and one of three outcomes is in view:
(1) A nominee fights bitterly—and hangs on, as Clarence Thomas did for his seat on the Supreme Court in 1991.
(2) A nominee fights bitterly—and loses, as Bork did in 1987.
(3) a nominee sees defeat impending, and decides to get out of the way (or is moved out of the way) to cut losses and minimize the public humiliation.
---
If these were normal times, we'd say that option (3) is in view for Brett Kavanaugh.