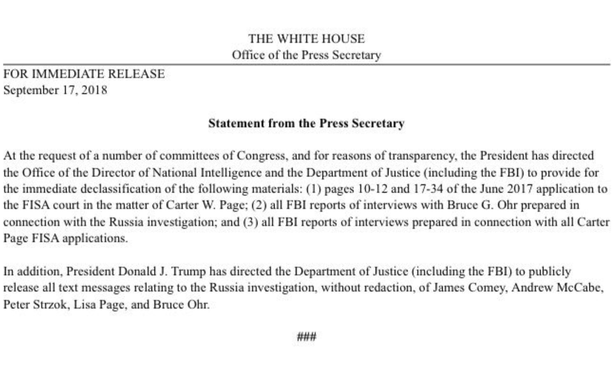 Because these details tend to get lost in the froth, let's pause to note two extraordinary steps Donald Trump took in the past 24 hours.
One of them is literally unprecedented; the other is a sharp departure from modern norms. I'm not aware of any member of the governing GOP majority objecting to either of them.
They are:
(1) Declassifying FISA warrants and messages from FBI agents. Presumably because he thinks these messages might embarrass people he considers enemies, on Monday Trump ordered the Director of National Intelligence and the Department of Justice (which includes the FBI) to make public "without redaction" a variety of text messages, reports, and even FISA warrants all involved in the Russian-influence probe.

Why did this matter? Because the FISA warrants, the FBI reports, and these other documents presumably contain details on how the government knows what it knows. Who its sources are, what informants and moles it has developed, which surveillance systems work, which enemy codes have been broken. Recall the familiar (though disputed and even disproved) claim that in World War II Winston Churchill let the Luftwaffe bombing of Coventry proceed — rather than evacuate the city, which could have tipped off the Germans to how much the British knew. Whether or not that story is correct (probably not), as a parable it illustrates how important protecting "sources and methods" can be. And in this case Trump decreed: I don't care.
The "Gang of Eight" within the Congress is supposed to be the bipartisan bulwark against misuse of the intelligence system. Today a "Gang of Four" — the Democratic half of the full-scale octet Gang — protested bitterly against Trump's decision, and appealed to the FBI and intelligence establishment to ignore it, or slow it down.