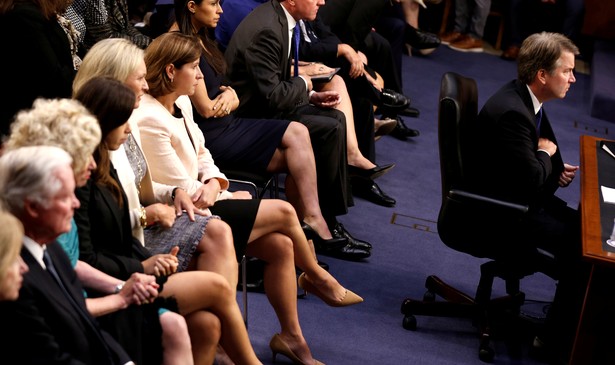 I have been offline, traveling for actual reporting, over the weekend, and reappear to find… argh!!! There is no possible way to keep up. So as a brief time-capsule register of where things stand, six weeks before midterm election day, here are two markers of things that have changed in the past few days.
(1) There is no longer "just one." The most significant recent development in the Brett Kavanaugh case would appear to be the dispatch from Jane Mayer and Ronan Farrow in The New Yorker, alleging an episode of sexual assault by Kavanaugh when he was an undergraduate at Yale. Why is this significant?
(a) Of all the reporters whose accounts go contrary to official Trump administration claims, from the venerable Bob Woodward to the more recently eminent Ronan Farrow, I am not aware of anyone whose decades-long track record stands up better than Jane Mayer's. If she has had to retract, apologize for, eat crow about, or otherwise retract significant factual illustrations, I'm not aware of it.
(b) In the etiology of sexual-aggression claims, the offense history very rarely seems to be "there was just that one time." Either the number of plausible sexual-abuse claims against a prominent figure is zero — against Barack Obama, against George W. Bush, against Kavanaugh's fellow Georgetown Prep alumnus Neil Gorsuch, etc  — or it eventually amounts to a significant number.
Cosby, Weinstein, the gymnastics doctor Larry Nassar, and the like may be extreme cases. But in general the pattern we've all learned to expect is: If there is one, there is more than one. Conversely: if the number remains firmly at one, it's easier to raise doubts about that lone accuser.
With the Mayer-Farrow story, the number of specific allegations against Brett Kavanaugh broke the more-than-one threshold. No one working for Kavanaugh's confirmation can say so, but this news substantially changes expectations, and apprehensions, about what other claims might yet turn up.
(c) On the expectations front, I'll lay out my own.
In my reporting life and as a citizen, I've watched over the decades many cycles of "rumors" and "questions" about sexual misconduct by prominent (male) figures run their course. Not in every case, but in the vast majority of them, as the evidence finally comes out and mounts up, it has usually weighed on the side of the accuser, not the accused. Where there is smoke, there has usually been fire.