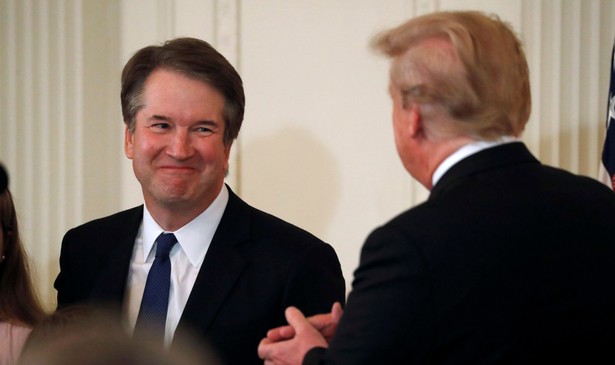 Brett Kavanaugh's suitability to serve as a Supreme Court justice differs from Donald Trump's suitability to serve as a president in some obvious ways.
Kavanaugh has long previous legal experience, versus none in public office for Trump. For the past 12 years, Kavanaugh has held a job generally regarded as the closest thing to being on the Supreme Court—namely, a seat on the D.C. Circuit—and he has been on conservatives' list of prospective future justices for a long time. Most people doubted, even as of Election Day, that Trump would become president. Most people have assumed, even as of now, that Kavanaugh will be confirmed.
But after this past week's hearings, and before anyone knows what job Kavanaugh will hold next year at this time, it is fair to liken the two men in one important way: By the rules of previous, pre-Trump-era politics, neither of them could possibly have made this final career step—Trump to the presidency, Kavanaugh to the Supreme Court. Each has done things and revealed traits that would have been automatically disqualifying in the world as it existed before 2016. Donald Trump nominated Kavanaugh; Trump's example is also shaping him.
---
By the pre-Trump rules of presidential campaigning, Trump's prospects would have come to an end numerous times along the trail: when he mocked John McCain as "not a hero," when he similarly criticized a Gold Star family, when he refused to release his tax information, when the "Grab 'em!" tape came out, when he talked about the "Mexican judge," when he revealed that he didn't know what the "nuclear triad" was—the list goes on. After all, Edmund Muskie left the presidential race in 1972 to a large degree because he cried one time at an outdoor speech, in a snowstorm, and Howard Dean in 2004 to a large degree because he screamed too exuberantly one time at a post-primary-vote rally. Joe Biden was eliminated from the 1988 race to a large degree because he passed off someone else's family-history anecdote as his own. Excesses like these became routine for Trump on the campaign trail, yet he went on.
In Kavanaugh's case, his afternoon before the Senate Judiciary Committee revealed three traits that previous nominees who sat in that chair have carefully avoided, because they would have been considered so damaging. They were: temperamental instability; open partisan affiliations; and a casual willingness to tell obvious, easily disprovable lies. These are apart from the underlying truth of the multiple sexual allegations about Kavanaugh, which may not ever be provable.
The details in these three categories fill the weekend's news, and have been covered in many strong posts on our site: by Matt Thompson, by Megan Garber, by Judith Donath, by Joe Pinsker, by Adam Serwer, and many others. But to explain the grouping, and why it departs from the known past:
(1) Temperament. Positions of public power that are in the public eye are uncomfortable. People disagree with you. They criticize and even hate you. Often they twist facts and reach unfair conclusions. All of this goes with the territory of being a president—or a governor, a general, a boss, any kind of leader, or anyone who has to make high-stakes decisions that involve other people, and that some people won't like.
What also goes with the territory, or should, is a thick skin, and a long view. Politicians can get away with the occasional public flash of anger about unfair accusations. That can be part of the personality they present to their constituents, though Trump is the first to make grievance itself such a long-running political act. But judges aren't supposed to. There's a reason the adjective judicious has the word-origin that it does. And by past conventions, Supreme Court candidates were supposed to present themselves as the most calmly judicious of all.