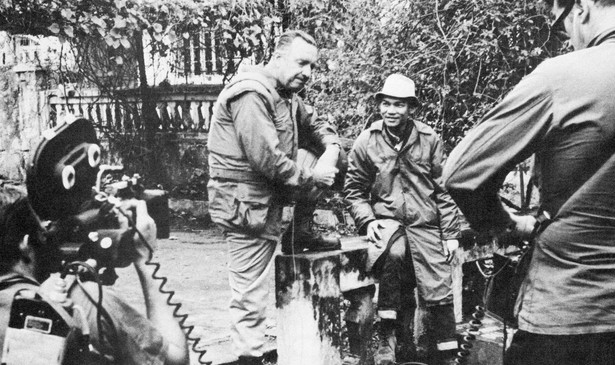 Two very useful assessments of Bob Woodward's mega-best-selling Fear, officially published today, are this one by Isaac Chotiner, in Slate, and this one by Andrew Prokop, in Vox.  They both make one of the enduring points about Woodward's long-running inside-Washington saga: how easy it is to guess at least some of the people who have talked with him.
Partly that is because these figures are presented with ongoing interior monologues: "Powell wondered: was Cheney pushing the WMD evidence too hard? Might they regret the step they were about to take? Was he being hung out to dry?" "Petraeus thought as he left the meeting, Maybe this time, at long last, Obama would finally act." Or in the latest book, "Cohn realized, this could mean economic war. If only there were some way to head it off." None of these is a real quote, but any of them could be.
Back in 1976, Art Levine published in The Washington Monthly a famous parody of how Woodward and Carl Bernstein's treatment of Richard Nixon's resignation, in The Final Days, might have applied in the final days of Naziism. Only two books into the Woodward oeuvre, Levine highlighted the source-conscious tone. His piece began:
This was an extraordinary mission. Reichsmarshal Hermann Goering and Heinrich Himmler, the Gestapo chief, settled in for the two-hour train trip to Berchtesgaden. The two sensitive and brilliant aides were leaving behind a hot, sunny Munich. It was September 15, 1943. Ahead of them lay the mountains and lakes of western Germany and Austria. The sun poured in at a forty-seven-degree angle through the windows. For most of the travelers, the trip was an occasion for relaxation, a brief respite from the war. Yet these two public servants were not in a holiday mood.

Goering and Himmler had heard rumors that the Fuhrer was anti-Semitic. It was all hearsay, innuendo, but still, the two men were troubled.
Another clue is that these figures come off so much better in the books. Precisely because of the interior monologues, they're more rounded, they're more aware of the trade-offs in public choices, they're conscience-stricken, they're trying to do the right thing. Thus, as both Chotiner and Prokop point out, the figures who show up in Fear as struggling hardest to save the country from Trump rank high on the probably-talked-with-Woodward list. (Of course there must have been many others—including some whom Woodward could cannily have concealed by not given them the "Mattis was worried..." treatment.)
***
But there's a second ongoing point about Woodward's books, which is: no matter how he obtained them, Woodward's anecdotes, allegations, and narratives have to a remarkable degree stood up.