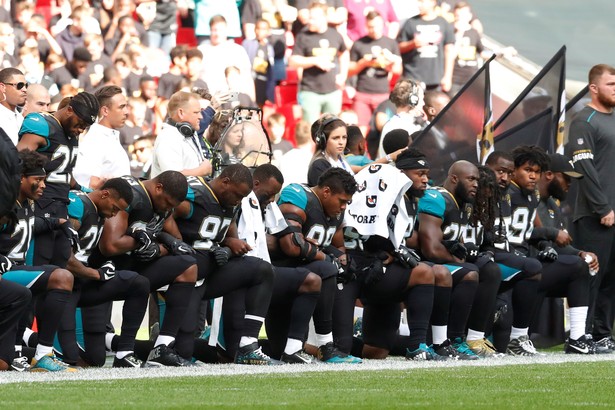 Over the weekend I wrote about Donald Trump's attacks on protesting NFL players, at a raucous rally in Alabama, and his tweeted threats that if North Korean officials didn't change their tune, "they won't be around much longer!"
A sample of the response—pro, con, amplifying, and correcting:
'To Make America Great, Remind Us of What Makes America Exceptional ...' A veteran of America's current long wars writes:
I am a U.S Marine who has proudly served in Afghanistan and Iraq after a weekend filled with consternation over our president's comments and tweets. I'm convinced that he no longer cares about his job or national unity.

He turned an NFL protest into a wedge issue about the flag so that he can appeal to a base of voters he is letting down. If players want to protest on the sidelines before games it is their choice and I respect their right to do so.

As a U.S servicemen I have sworn an oath to defend the Constitution which grants the right to free speech, peaceful assembly as well as to petition the government for wrongs committed. How players or individuals choosers to exercise such  freedoms is not my concern but my commander in chief using the flag and the sacrifice made by military families as a wedge issue is what troubles me.

Being in the military you fight so that you have a home to come back to, you fight for a more "perfect union" but not to divide, politicize or segregate our nation on the basis of what voters believe in standing for the flag and which voters don't. I don't support the presidents effort to divide a nation already split on so many issues and unsure how to combat inequality.

To make America great he must remind us of what makes this nation exceptional which is our belief that freedom and justice exist for all and that all Americans are created equal with inalienable rights.
* * *
'Trump Never Loses!' From another reader:
Amidst the noise, I think you've overlooked last week's 'shocking' (but not surprising) reprise of one very basic Trump theme: TRUMP NEVER LOSES