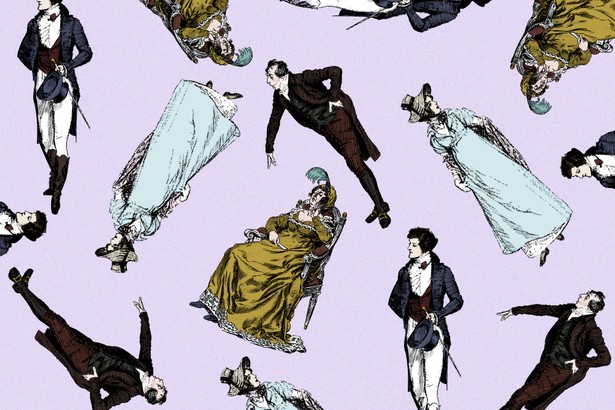 Last week I asked readers to tell us about their favorite characters from Jane Austen's body of work. Janeites responded with praise for characters ranging from Pride and Prejudice's Lydia Bennet to Lady Susan's Susan Vernon—characters who made them laugh or cry, or gave them strength, or taught them something about themselves.
Like me, and Jane Austen herself, many readers loved Emma Woodhouse despite—or even because of—her evident flaws. "Emma is rich, pretty, and thinks more of her matchmaking abilities than she should," Kristina Gregerson summarized. "But," she added,
she is also a devoted daughter, a loving friend, and above all is someone who is willing to own up to her mistakes and attempt to right them. Emma is a heroine you root for as she not only finds love (as any great Austen heroine must), but also as she matures from an often inconsiderate girl to a sincere and kind young woman.
Katrina Toth-Green was similarly impressed by Emma's maturation, writing:
There's something about Emma Woodhouse's growth that I think is incredibly realistic, even now. She wants to be empathetic and wants to live out her values of love, sympathy and caring, but doesn't know how. She's young and just trying to figure out how to be the best she can be. but like most of us, she has to experience the worst of herself first. She struggles with the fact that the best people in your life aren't always those who make you feel good about yourself, but it's those who make you into a better person despite how hard it is to confront your flaws and mistakes. Her transformation highlights that admiration is worthless if in the end your actions don't reflect your values. Emma has been one of my favorite books for years and the more I read it, the more I love this character.
Leah not only enjoyed Emma's complexity, but has also drawn wisdom from her experiences. "I've always related to the flawed character of Emma," she wrote. "As a young teen, I learned from Emma and her mistakes and flaws, and as a young adult I still benefit from reading the novel."
Other readers similarly opted for characters they could identify with. Maeve, writing from Connecticut, "cringed my way through Northanger Abbey" with its heroine, Catherine Morland:
Catherine is a dramatic, gothic-novel-loving teen who is desperate for drama and tries to turn her own life into a ghost story, offending and upsetting her friends in the process. Throughout my teens I did my best to make my life something in between a fantasy novel and a Sofia Coppola movie—I can relate.

She's funny, outgoing, and magnificently stupid. But Catherine, in her ridiculousness, just wants to make life a fun story. She is the angsty suburban girl who invites you to join her book club with a message written in invisible ink. I would join in a heartbeat.