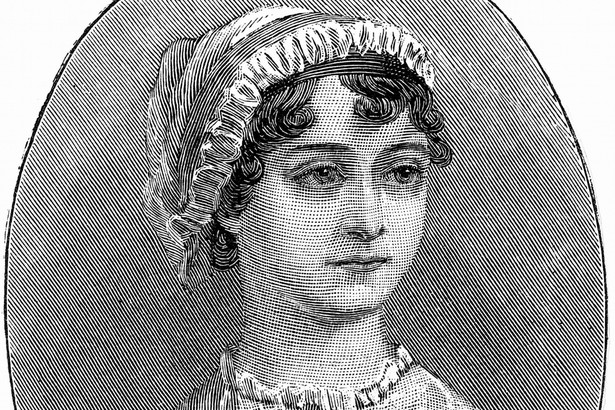 This week at The Atlantic we're marking the 200th anniversary of Jane Austen's death with a celebration of her life and legacy. Our cofounder Ralph Waldo Emerson might have been less than enthused about these digital festivities; as Lee Siegel reported in our January 1998 issue:
Austen irritated Emerson: he found her novels "vulgar in tone, sterile in artistic invention, imprisoned in the wretched conventions of English society." All that her characters cared about was "marriageableness." "Suicide," the great Transcendentalist proposed, "is more respectable."
Emerson wasn't alone in his distaste for Austen. Readers—whether they be other well-known writers, academics, or everyday consumers of literature—have long been divided in their opinions of the author. Some love her. Some hate her. Some hold her up as a literary icon, while others dismiss her as a chick-lit writer who concerned herself too much with marriage and not enough with pressing world affairs. Some admire the gentility and romance of the late-18th-century British society she portrayed, even as others praise her for satirizing and subverting the values of the same society.
Discussing what makes the author feel relevant even now, 200 years after her death, Nicholas Dames writes in our upcoming September 2017 issue:
As Austen's own Emma Woodhouse put it to her querulous father, "one half of the world cannot understand the pleasures of the other." … in the case of Austen, that misunderstanding seems to have an urgency that isn't attached to any other canonized, pre-20th-century literary figure.
Put simply, as Siegel observed, "No one, it seems, has ever been neutral or aloof about Jane Austen."
In our own pages, contributors have expressed a consistently positive opinion of Austen over the past 154 years. Mrs. R.C. Waterston complimented her in our February 1863 issue on her "rare intuition" and "peculiar genius," while Ferris Greenslet, writing nearly 40 years later, called her "after Sappho the most unquestioned genius of her sex" and praised her wit, her sensibility, and her "chief literary virtue, her unique and never adequately to be praised power of imaginative realization."
In 1998, Siegel had similarly laudatory words. "No other author," he wrote,
goes with such casual intimacy as she, for all her delicate soundings of formal social relations, into the vulnerable spot where society touches the root of self. And few authors are at the same time so quietly fearsome and so intensely consoling. …

Austen's style is one of English literature's marvels. Her repartee is sometimes as dazzling as anything in Sheridan, and is one reason that her perpetual hope of seeing exciting theater was disappointed whenever she went. …

She had a flawless ear for moral counterpoint, for the hidden chords of how things ought to be and really were. She pitched her delicately endangered sentences, her psychology, her dialogue and drama, to some invisible key way at the back of her language, just as Mozart pitched his compositions to a frequency beyond human range, way at the back of his music.
And Dames is just as complimentary of her style, writing:
Her sentences can leave readers in a swoon, with their controlled wit, their many-edged irony, their evident pleasure in their own mastery—and in the masterful way they negotiate or transform less graceful realities.
"Austen," he asserts, "has firmly joined Shakespeare not just as a canonical figure but as a symbol of Literature itself, the hazel-eyed woman in the mobcap as iconic now as the balding man in the doublet."
But the debate over Austen's literary prowess has nevertheless cropped up beside this stream of praise in the archives, as our admiring contributors have collected the opinions of other readers, some of whom were recognizable literary figures themselves.