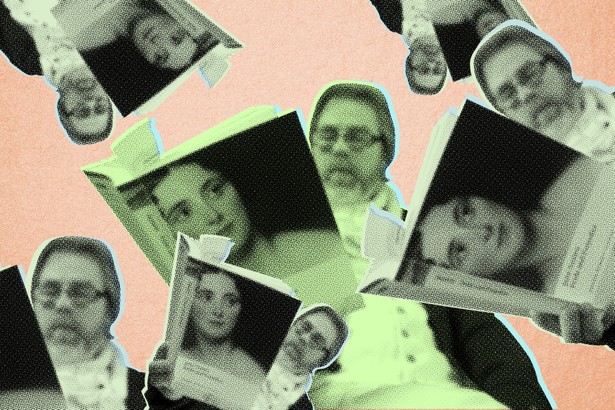 I'll admit to tearing up, the way you do for the end of a really good novel, as I read through the scores of reader responses we received to our callout for Jane Austen introduction stories. I'm not sure what came over me. Maybe it was the charm of all those far-flung fans connected through one author's work—or maybe just the swoony effects of watching people fall in love with a book, almost a hundred times over.
For that's how numerous readers described it—a dizzy rush, a thrill of discovery, reading breathless through weekends or into the night. Many of their first Austen encounters came on syllabi or summer reading lists—as Jane Booth of Charlotte, North Carolina, puts it, "the classic book report assignment that seemed tedious then but feels now like a wrapped gift." Others were more serendipitous. Sandra Hutchison in Troy, New York, picked up a copy of Pride and Prejudice forgotten by her babysitter, quickly fell in love—and grew up to write novels herself. Hasifleur in New York City found a book of Austen quotes resting on the toilet tank in a relative's bathroom: "After the first time I picked it up, going to the bathroom was never the same." And Angela in California received her auntie's crumbling copy of Pride and Prejudice after she "listed 'your favorite book' on a birthday wish list one early-teenage year." She still has the book, now bound with a rubber band. She also has a daughter named Darcy.
Juti in Kansas comforted a widowed friend with tea and biscuits and Sense and Sensibility. Amy in Maryland read Persuasion a dozen times while her husband was deployed with the U.S. Navy. Shannon Kitchen in Texas read Emma aloud to her 13-year-old daughter, and "watched her fall in love just as I had years before." Katherine Hysmith in North Carolina sprinkles Austen through her doctoral work in food studies, while Ismini Sykioti in Athens writes of a lifelong love of literature: "I am head of English at an international school today because I watched Pride and Prejudice in 1996."
And indeed, if our informal survey of Austenites revealed anything, it's that those first encounters with the stories we love can have long-term consequences. Below are three stories from readers who found that their love of Austen transformed, shaped, and even helped to save their lives.
First up, Abby Gordon of Massachusetts recounts a true Austenian romance:
I was about 13 when my mom brought home a book-on-cassette-tape version of Jane Austen's Pride and Prejudice from the library. It was probably 10 or 12 tapes in all, and when my mom reached the end of the first tape she excitedly handed it over to me, along with an old portable cassette player. For the next week, we played a kind of leapfrog, the person behind waiting impatiently for the other to finish the next tape. We were enamored with the witty Elizabeth Bennet, alternately angered and charmed by the arrogant but dignified Mr. Darcy, taken in by Wickham, and thoroughly ticked off by Mrs. Bennet. It was probably the only time during my teenage years that my mom and I agreed so completely.

Years later, I was living for the summer in Buffalo, New York, with a group of other young adults. Almost immediately, I found myself employing Austen's inimitable quotes in an ongoing battle of wits with one of my housemates: Having disliked each other during college, David and I coped with living in the same house by trash-talking each other in a manner worthy of Lady Catherine de Bourgh.