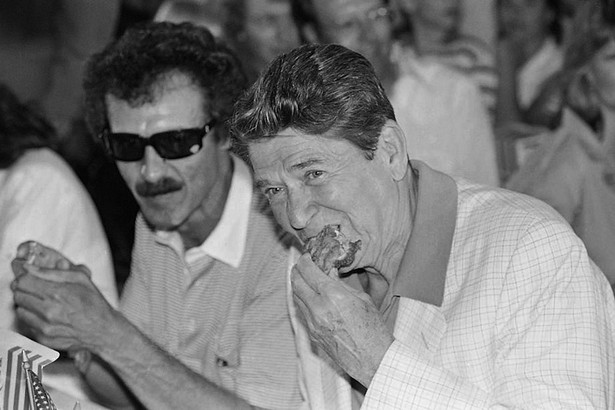 June is "National Soul Food Month." The cuisine, writes soul-food historian Adrian Miller, "has long been the foundation for home cooking in the White House." President Ronald Reagan was a big fan of fried chicken, President John Tyler apparently used to serve hog jowl and turnip greens to his friends, and former First Lady Michelle Obama planted soul-food greens in the White House garden to eat for most of the year. We asked our Politics & Policy Daily readers what dish—soul food or otherwise—they would request from the White House chef.
Donna Brazile, a political analyst and former interim chair of the Democratic National Committee, has a tasty menu already planned out for her hypothetical stint in the West Wing. She'd request "neck bones and gravy with green peas and a side salad. Fried catfish with potato salad. Smothered pork chops with collard greens and corn bread."
As president, David Deufel would take a somewhat spicier route, with a meal he calls "healthy, exotic, and digestible":
Basil-pesto stir-fried chicken with cabbage, carrots and Korean broccoli preceded by a spicy red pepper hummus covered by an Indian curry sauce. Sautéed brussels sprouts and cabbage on the side … Add a tomato bisque soup if necessary. Take the plunge!
Howard Cohen says he'd hope to have two "staples of 'Jew Food'" while in office: matzo ball soup and corned beef sandwiches. He could make his own soup, but he'd have the chef whip up the sandwich:
Corned beef on rye: top quality brisket, sliced thin, juicy and mouth-watering; mustard (yellow not brown); kosher dill pickle; side of fruit; fries.

And if the quality is not good, I'd have Art's Deli Fed-Exed to the White House.
Katharine Moore is daydreaming about dinner and a show:
Sweet tea, pecan pie, and homemade wine … so I could have the Zac Brown Band serenade my guests in the State Dining Room. Pablo Casals was just the right man for the Kennedy administration, but crazy times call for a fiddle, not a cello.