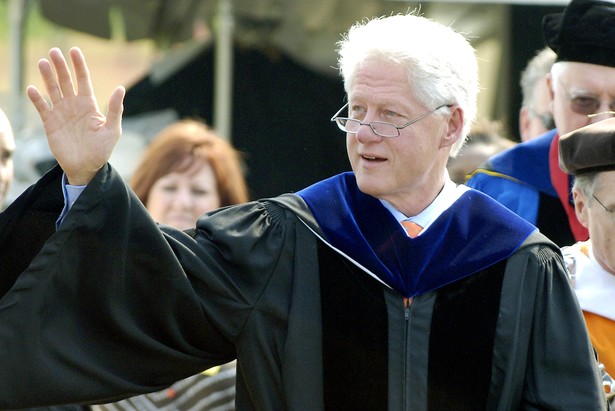 The month of May signals the start of college commencement speeches—a tradition featuring many political figures. In 2016, former President Barack Obama, Massachusetts Senator Elizabeth Warren, and Supreme Court Justice Sonia Sotomayor all gave popular addresses. This year, Hillary Clinton is scheduled to speak at Wellesley College, and Donald Trump will speak at Liberty University. So, we asked our Politics & Policy Daily readers about their favorite commencement addresses by political figures. Here's what they said:
Judy Share recalled the day in 2007 when her son Matthew graduated from Harvard University and both former President Bill Clinton and Microsoft founder Bill Gates spoke:
It was an extraordinary cloudless late spring day and the ceremony was held outdoors in Harvard Yard. My family and I sat as close to the aisle as we could so that we could see the two Bills walk up to the stage. Bill Clinton was giving the commencement address.

Bill Gates (who spoke as well) was getting his honorary degree, since he had not graduated from Harvard, but had instead gone into business. It was a wonderful day listening to these two men recount their experiences and impart their advice to the college graduates—one as a past U.S. president, and the other as founder of Microsoft.
While he isn't exactly a political figure, several readers responded that an address from another big name in tech was most memorable: Steve Jobs's speech at Stanford University. Here's Jobs's speech, on how to make the most of life:
In June 1963, President John F. Kennedy delivered the commencement address at American University—a speech John Penrose calls "eloquent and timeless on the subject of war and peace." A key excerpt:
First examine our attitude towards peace itself. Too many of us think it is impossible. Too many think it is unreal. But that is a dangerous, defeatist belief. It leads to the conclusion that war is inevitable, that mankind is doomed, that we are gripped by forces we cannot control. We need not accept that view. Our problems are man-made; therefore, they can be solved by man. And man can be as big as he wants. No problem of human destiny is beyond human beings.