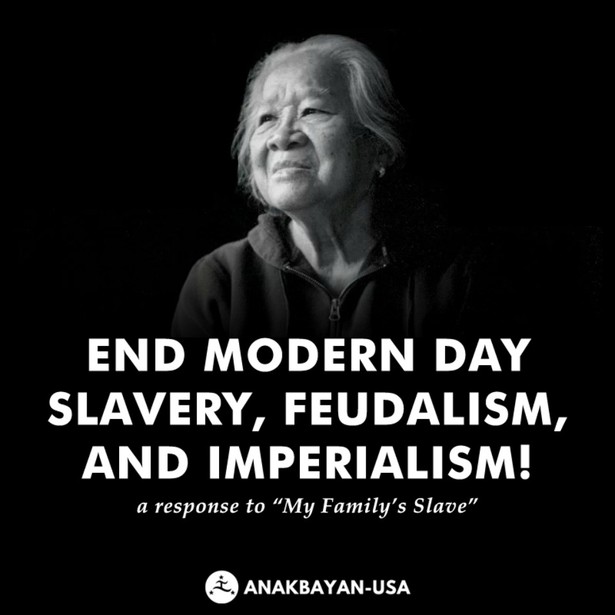 Anakbayan USA, a national organization of Filipino youth and students dedicated to advancing democratic rights, sends this response:
In the viral Atlantic article, "My Family's Slave," author Alex Tizon tells his account of Eudocia Tomas Pulido, who was to Tizon's family both "Lola" and slave. Behind the heart-wrenching storytelling is a reality we must face: the oppressive class structures and culture that brought forth Eudocia's enslavement and trafficking, and the need to change them in order to address the root of modern day slavery within the Filipino community.

The use of underpaid and overworked katulong, utusan, and kasambahay—the kind of servitude Eudocia was forced to perform—is common practice among many Filipino families. It is an unjust practice that stems from a violent history of colonization and exploitation of the Filipino people. In the Philippines, thousands of Filipinos are brought to the cities, suburbs, and wealthy households in the countryside as domestic help. These domestic helpers are very often young women who must face exploitative conditions. No matter their destination, they are undoubtedly a product of the massive landlessness and joblessness brought about by feudalism in the Philippines.