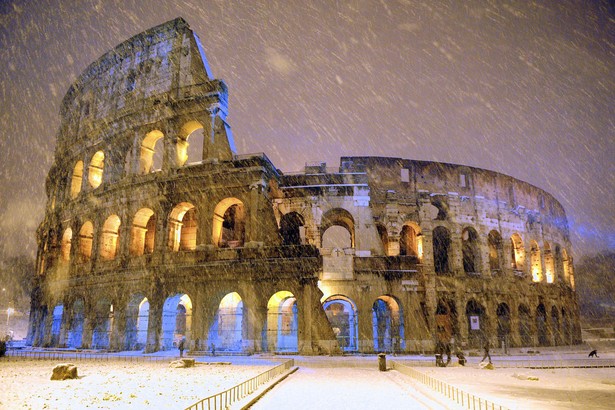 To wrap up our series for Poetry Month, we'll begin with a poem about an ending: W.H. Auden's "The Fall of Rome." From reader and Atlantic contributor Michael LaPointe:
If a civilization is measured by its margins, then the Rome of Auden's poem is instantly recognizable as in a state of decay:

The piers are pummelled by the waves;
In a lonely field the rain
Lashes an abandoned train;
Outlaws fill the mountain caves.

As the poem's roving eye approaches the city, its rhymes generate startling juxtapositions—"Fantastic grow the evening gowns" resolves with "The sewers of provincial towns"—that impress the empire's gross inequalities. A single stanza can go from top to bottom with scalpel-like swiftness, an autopsy of Rome's rotten anatomy:

Caesar's double-bed is warm
As an unimportant clerk
Writes I DO NOT LIKE MY WORK
On a pink official form.

Line by line, society rends itself apart, all to the music of Auden's formal perfectionism—a hypnotic sleepwalk to the edge. And yet the poem is more than a litany of collapse. Auden famously revised his early, radical political anthems to reflect a less simplistic worldview, and in "The Fall of Rome," we're given a sense of the wisdom that prompted those revisions. The poem closes with two astonishing stanzas, the lens zooming out to take in the space around the poem, a world indifferent to grand, world-historical catastrophes:

Altogether elsewhere, vast
Herds of reindeer move across
Miles and miles of golden moss,
Silently and very fast.

Beauty resides, spontaneous and preserved, in that "altogether elsewhere." It's we who have built Rome, and must fall with it.
Full poem here.
***
On that note, Brett Kirkpatrick writes:
Etheridge Knight offers us a wisdom that transcends geography, history and race. ​In "Hard Rock Returns to Prison from the Hospital for the Criminal Insane" he helps us to understand what happens when our heroes are broken:

He had been our Destroyer, the doer of things
We dreamed of doing but could not bring ourselves to do,
The fears of years, like a biting whip,
Had cut deep bloody grooves
Across our backs.
Full poem here.
***
Rahel's favorite poem is "The Brooklyn Village Womyn," by Melissa Kiguwa:
learned to wrap stories around shoulders for protection. wound pashmina memories from shoulder blade to shoulder blade making sure neck to back covered. times is chilly so she always wants to be secure.
Find it in Kiguwa's collection Reveries of Longing, and read an interview with the poet here.
***
Elena Yee recommends "So Much Happiness," by Naomi Shihab Nye:
When the world falls in around you, you have pieces to pick up,
something to hold in your hands, like ticket stubs or change.

But happiness floats.
It doesn't need you to hold it down.
It doesn't need anything.
Happiness lands on the roof of the next house, singing,
and disappears when it wants to.
You are happy either way.
Read the rest here. From Elena:
On my 40th birthday, I received a book of poetry from a friend who was also an English professor. The last thing I wanted to read was poetry, as I didn't see myself as a poetry person. Yet another professor had often said that the reason I didn't like poetry was that I simply hadn't found "my poet."

Then I read "So Much Happiness" and I felt for the first time that someone was able to describe in full what happiness felt like for me. It was also two years after 9/11, and so many of us, including myself were still trying to process that tragedy for our nation, wondering if we could ever experience what it meant to be happy again.

So when I read this poem, I felt I had finally found "my poet." A couple of years later I had the privilege of meeting Ms. Nye and introducing her at a college convocation—and no greater joy or happiness did I experience than in that moment.
***
Wm. has a similar story of finding poetry at a dark political moment:
I came of age in the early '70s, which, as you know, were incredibly depressing years. After political assassinations, the Vietnam War, protesting college kids being shot on campuses, Nixon's Watergate and on and on, I really wasn't optimistic about the future. There was always the threat of violence that hung in the air like filthy low-hanging clouds. Everyone around me—my siblings, my parents, my teachers, my coaches, my community—seemed really quite depressed.

The only thing that opened my eyes as a young teenager to a different, more interesting world came from the music that my brother listened to and the books that my sisters brought home. I used to carry around a small paperback anthology of poetry. Of course, I was attracted to the poems that were not too challenging and those which an angsty teen could appreciate.

One poem that I liked, and which I had memorized, was "I Am Not Yours" by Sara Teasdale:

I am not yours, not lost in you,
Not lost, although I long to be
Lost as a candle lit at noon,
Lost as a snowflake in the sea.

It perfectly expressed my dual desires to be loved and yet to disappear from the world.
Read the rest here.
***
More on those dual desires in Olivia's recommendation, "Gacela of the Dark Death" by Federico Garcia Lorca:
     I want to sleep for half a second,
a second, a minute, a century,
but I want everyone to know that I am still alive,
that I have a golden manger inside my lips,
that I am the little friend of the west wind,
that I am the elephantine shadow of my own tears.
Full poem here.
***