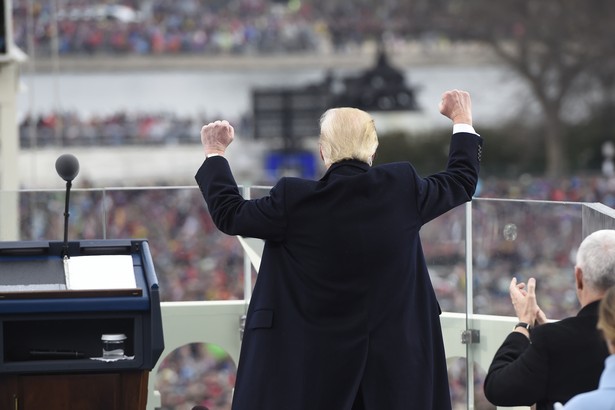 Since the 1930s, a president's first 100 days in office have been used to measure the new administration's progress and potential success—for example, by his 100th day, former President Franklin D. Roosevelt had signed 76 bills into law and pushed for new federal jobs programs. President Trump will reach his 100-day mark on April 29. This week, we asked our Politics & Policy Daily readers to share their assessments of his early days in office.
Against the standard set by FDR and other presidents, reader Sean described Trump as a "deadbeat," and Maria Melnick said she could sum up his first 100 days in one word: "Sad!"
Jim Young offered a more thorough examination of the president's performance, looking at Trump's early days from several perspectives:
Let's be clear: The 100-day standard is simply a journalistic attempt to benchmark progress of a presidency. It is a simplistic but reasonable attempt to judge a leader's impact.  On that basis, Trump has to be a failure judged by answers to the question: "Are we as a country better off now than 3-4 months ago?"

From a security perspective, all polls show anxiety and uncertainty at a much higher level largely due to the president's decision making. From an economic perspective, the economy is doing better than public impression would have it, but that is largely due to the rhetoric of the administration that is still in campaign mode. From a political perspective, there is no cooperation at all at the federal level, and almost all institutions are in "lockdown" mode. Lastly, from a cultural perspective, Trump's scapegoating of so many groups in the country (Muslims, liberals, reporters, Democrats) is divisive, and the very slogan "America First" contradicts many of our national values.
Tom Lucas isn't surprised by Trump's performance so far; he thinks it's a pretty accurate reflection of the Republican's campaign:
There is no consistent focus, advisers are dropping in and out of favor, and Trump claims everything good that happens (good January job numbers) is a result of his greatness, while things that fail (AHCA) are somebody else's fault. Overall he is showing terrible leadership attributes. He also seems to have a desperate need for approval, evidenced by the fact that he is already holding campaign events where he can bask in the glow of those that see him as the solution to their problems.
Michael Porcaro, on the other hand, would give Trump an A for effort:
I feel he is doing his very best to carry out his agenda. Congress has to make adjustments to meet his demands. He won due to what he ran on. It's what the majority of working people want. He has more to do.
Ken Smith echoed that assessment: "Considering that the mainstream media is STILL against him and the Dems are doing everything in their power to deter his progress, I'd say he is doing a great uphill job."