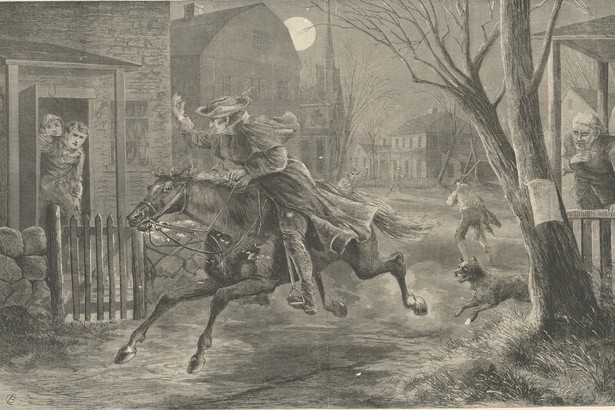 On this day in 1775, patriots in Lexington and Concord fought the first battles of the American Revolution. Which means that the late hours of last night and the very early hours of this morning marked the anniversary of another memorable event in American history, recalled by Atlantic co-founder Henry Wadsworth Longfellow:
Listen, my children, and you shall hear
Of the midnight ride of Paul Revere,
On the eighteenth of April, in Seventy-Five
Longfellow's famous poem recounts the silversmith's long ride through Middlesex County to warn the revolutionaries that the British were on their way—thus allowing the Americans to muster their forces and drive back the British the following morning.
"Paul Revere's Ride" first appeared in our January 1861 issue, just months before the Civil War broke out. As Sage Stossel noted in her 2011 preface to the poem, the timing was no accident:
Longfellow was a committed abolitionist … With "Paul Revere's Ride," he sought to create a patriotic national myth that would remind readers of their shared heroic past while galvanizing them to once more stand up for the nation's founding principles.