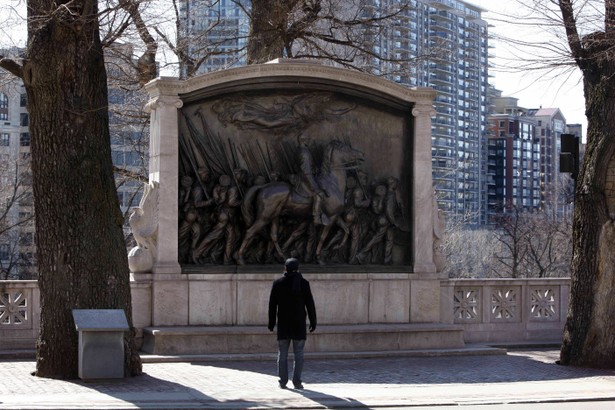 The Civil War began on this day in 1861, when Confederate forces fired on Fort Sumter in South Carolina.
I grew up in northern California, far from the battlefields on which the conflict was fought. My local forerunners were Spanish explorers and gold seekers, not musket-wielding soldiers; the historical sites around me commemorated losses, celebrated victories, and acknowledged demons that had nothing to do with slavery or sectional conflict.
It wasn't until I moved to Massachusetts six years ago that the Civil War began to feel close and real to me, and that I really began to grasp its complicated impact. The state abounds with mementos, from buildings and streets named after abolitionists to numberless memorials for lost soldiers and local heroes. The war, and the fierce political and moral disputes that led to it, are as physically present in and native to New England as they are absent from my California hometown.
It's this tangible local legacy that Robert Lowell confronts in "For the Union Dead," from our November 1960 issue. In the poem he considers one of Boston's many tributes to the war, the Memorial to Robert Gould Shaw and the 54th Massachusetts Volunteer Infantry Regiment, which shows Shaw leading a troop of African American soldiers into battle:
Two months after marching through Boston,
half the regiment was dead;
at the dedication,
William James could almost hear the bronze Negroes breathe.

The monument sticks like a fishbone
in the city's throat.
Its colonel is as lean
as a compass needle.