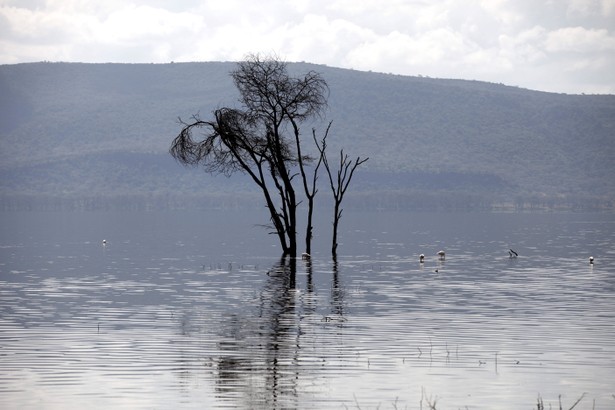 I could have picked any number of wonderful poems, but the first that popped to mind was one I found five years ago in a poetry book I randomly bought at a used bookstore in Oakland. (The shop's name is too good not to mention: Walden Pond Books. Looking back, maybe it was a sign that I would one day write for the same publication as Thoreau ... )
Anyway. The book I picked up was The Circle Game by Margaret Atwood; the poem I'm thinking of, "This Is a Photograph of Me," was the first in the collection. It gave me major goosebumps then, and it's given me chills every time I've read it since.
The poem begins with a few stanzas of the speaker describing an old photograph in great detail: "It was taken some time ago." The print looks a bit "smeared." You can "see in the left-hand corner a thing that is like a branch." There's a glimpse of "a small frame house," "a lake," and "beyond that, some low hills."
And then, the twist, which hits like a sledgehammer:
(The photograph was taken
the day after I drowned.

I am in the lake, in the center
of the picture, just under the surface.

It is difficult to say where
precisely, or to say
how large or small I am:
the effect of water on light
is a distortion

but if you look long enough,
eventually
you will be able to see me.)
First: How terrifying is that? As if learning the speaker is dead—no, drowned—weren't enough, the reader/viewer is told that all along she's been "looking" at a photograph of the body. The mundane, orderly beginning to the poem feels a bit like a homeowner giving a gentle, if slightly boring, tour of a perfectly nice house: We just got these frosted sconces; the guest bathroom is at the end of the hall on the left; we love the backsplash, too. The seemingly straightforward title doesn't hint at the haunting direction the poem will take, even though you're waiting for Atwood to finally describe the figure of a person. Before readers know it, they're complicit in something awful and unexplained.