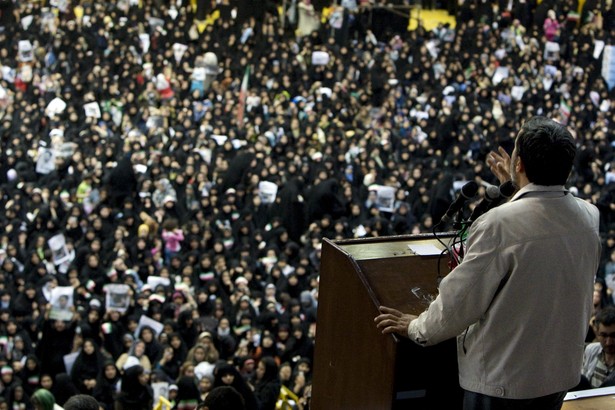 An Iranian American reader is worried about her family and friends in the wake of President Trump's travel ban on the citizens of Libya, Iraq, Somalia, Sudan, Syria, Yemen, and, of course, Iran:
My father is a small business owner in the Midwest, managing a manufacturing company of 20 employees. He has operated this business for the past 15 years, providing jobs and benefits to hard-working Americans. My dad himself is a naturalized citizen, Iranian born. He attended university in the U.S. right before revolution broke out in Iran, and for 35 years thereafter he was unable to return to Iran.

His siblings slowly immigrated to Europe and the U.S. over the years with my grandparents visiting us for years at a time. My grandparents very proudly became naturalized citizens a few years ago.

My father spent these last two weeks in Iran attending to his widowed mother, who is hard of hearing, hard of sight, and diabetic. She had missed her sisters and their families and so went back to Iran a few months ago, despite our wish for her to stay.

This weekend, with the confusion over the ban and not understanding to whom it applied, I found myself asking if my father would be allowed back in the country on Sunday because of his dual nationality. Thankfully, he was.

But my grandmother is still in Iran. I am worried about our ability to bring her back to the U.S. before tensions get worse between the two countries, despite her dual citizenship and the dual citizenship of my relatives who would need to escort her back. We are worried about our friends and family, the students who have visas to study in the U.S., who don't know if or when they can visit home now. We are worried about the families who hoped to send their children to the U.S. for educational opportunities. We are worried about the individuals who fled Iran and sought asylum and freedom from religious persecution.

They call Trump the "American Ahmadinejad" in Iran and no wonder; he is self-serving, uninformed, and shows intolerance to vulnerable populations.

I am hopeful that our senators and governors will hear our calls to stay Trump's immigration order. We are a nation founded on seeking refuge, and to institute a "Muslim ban" on the premise that providing solace to refugees will harm our nation is an insult to this country.
If your own family is being affected by the travel ban and you'd like to share your story, please send us a note. Regarding the first reader's Ahmadinejad/Trump comparison, "it has some depth," according to The Washington Post's Ishaan Tharoor in a September 2016 piece: