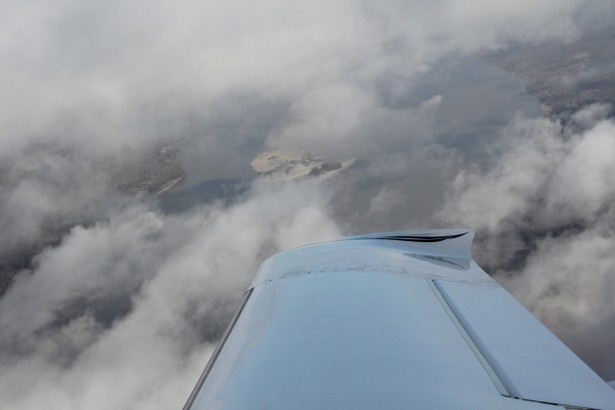 We took off west from Demopolis, Alabama, prepared for a lot of flying ahead on this last journey for The Atlantic's American Futures project. (First two installments in the series, taking us from D.C. to Alabama, here and here. ) We passed over Meridian and Jackson, in Mississippi, just a ways south of Columbus, Starkville, and West Point, where we spent several reporting trips to the booming manufacturing center of the so-called Golden Triangle.
I have always looked forward to crossing the Mississippi River. We've done that in just about every state through which the mighty river flows, especially in the upper Midwest: Minnesota, Wisconsin, Iowa, Illinois. There it would be today in the state of Mississippi, below us just around Vicksburg. I was worried about even getting a glimpse because of the low-overcast clouds, which we were flying above (on an "instrument flight plan" because we were expecting to have to land in cloudy conditions). We watched the navigation maps on the cockpit monitors, and just as we were about to cross, the clouds parted. Jim banked the plane so as to dip the wing on my right seat side, and I stole enough of a look to recognize the unmistakably mighty Mississippi.
We stopped for fuel in Minden, just shy of Shreveport, aiming for Dallas to install the software patch that we needed for weather readings. There's always something, even in this little plane; it amazes me that the big boys fly around with as few mechanical and technological delays as they do.
***
By the time we were ready to take off from Dallas the next day, a cool drizzle had moved in, reminding us why we avoided winter during most of our flying in the last three years. For the next three hours after departure (again on an instrument plan), we were either in the thick cloud layer or just above it, barely seeing the vast stretches of west Texas below us or the sun above.
I think Jim enjoys the challenge of this kind of flying. He is always on top of the instruments, pushing buttons of one sort or another, checking gauges, and testing the redundant systems. For me, this opaque flying is unpleasant, sometimes even boring. I don't like the absence of orientation. Most pilots, I've learned, have a zealous passion for flying. It's something they can't not do, and they don't seem to mind the conditions. For the rest of us, well, I for one consider flights like these functional. The plane is getting me west.