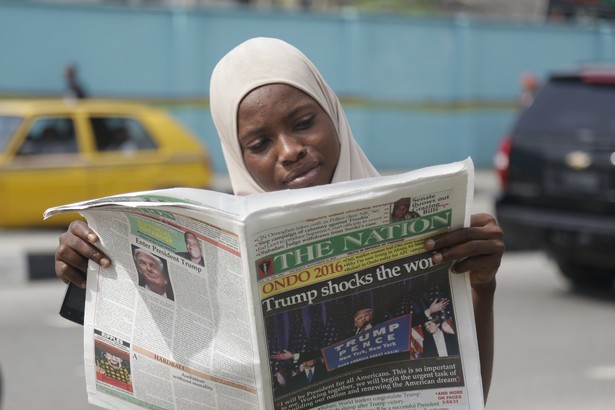 Last month, a reader in Nigeria named Shayera Dark sent us a long note criticizing the culture of political correctness in the U.S. Her smart polemic didn't have a place in Notes at the time, but after we began this reader series on global reactions to Trump's victory, I thought of Shayera, so I asked her what she thinks of the U.S. election. Her response isn't easily categorized:
As a woman, Hillary's loss was a great disappointment. She came prepared but lost to an egomaniac. I believe Trump's win only reinforces toxic masculinity and meanness. You can be a straight shooter without being odious.

The day after the election, I did a vox pop [an interview with members of the public] in a cafe in Lagos. Most people were surprised and disappointed that Trump won, but they didn't think his presidency would affect Nigeria substantially. They had a let's-wait-and-see view.

Personally, I think Trump's presidency might be a boon for Africa. Say he decides to cut aid to the continent: That could be the beginning of the end of Nigeria's perpetual debt cycle, and then perhaps true representation via taxation will finally take root. Nigerian leaders would be forced to listen to electorates instead of foreign donors.

Also, if he refuses to honour trade agreements, trade restrictions across the continent may loosen, and with free movement of goods and people comes the opportunity for African countries to grow their economies.
What else could a Trump presidency mean for Nigeria? He didn't discuss Nigeria or sub-Saharan Africa on the campaign trail, so there's not much to go on. Some Nigerians are worried he might pull support to fight Boko Haram. A secessionist group hoping to restore Biafra—a region of southeast Nigeria that existed as an independent republic between 1967 and 1970—cheered Trump's victory. Nigeria has the largest Muslim population in sub-Saharan Africa—about 40 percent of Nigerians follow Islam—so they could be impacted by the Muslim ban that Trump campaigned on (but whose top advisors have dialed back following the election).
If you live in Nigeria, or sub-Saharan Africa more generally, and you'd like to share your take on the U.S. election, please send us a note. In the meantime, here's that pre-election note from Shayera critiquing PC culture—a common sentiment of Trump voters in this popular Notes thread:
I'll start this piece with a confession: I am Nigerian, not American, and I've never stepped foot in America. But I do follow American politics and culture enough to know a consummate salesman/former reality show host and a lawyer/former first lady/senator/secretary of state are both running for president. I've heard and read enough of Donald Trump's empty speeches and sexist utterances to know he will feel right at home in Nigeria's political sphere, where a senator allegedly threatened a female colleague with rape and the president's speechwriter cribbed President Obama's 2008 victory speech to launch President Buhari's #ChangeBeginsWithMe campaign. So much for change.

As an observer of American culture, I'm intrigued by America's obsession with political correctness and it's knack for taking offense in everything and anything.