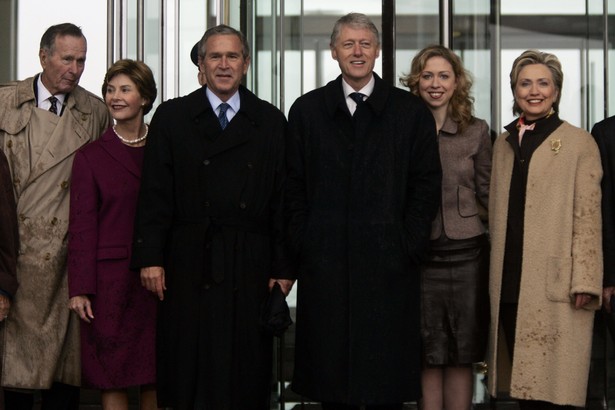 So far we've heard from two Trump voters in great detail: Alan, who's most animated by identity politics, and our Southern reader who wants to take a "wrecking ball" to Washington. But both readers also had major qualms with the Trump candidacy. Another reluctant Trump voter, Marco, describes his deep aversion to establishmentarianism and dynastic politics—and he doesn't spare the Republicans one bit:
We shouldn't be asking what happened with Trump. What happened to The Atlantic? I've been a reader for years, after abandoning Time and Newsweek because of their People-like superficiality. The appearance of considered thoughts at The Atlantic is what kept me there. But since you decided to take sides in the presidential election, strident hysterical writing is all I find, especially on November 9.

That's perhaps understandable The Day After, but, folks, the sky won't fall. It won't fall because the U.S. government's institutions are designed to prevent irrational outcomes to a good degree. Trust the system a little, if you learned anything from history.

I probably do not feel the pain to the same degree as you do, though I am concerned, and on pins and needles. I admit it: I voted for Trump—at the limit of my tolerance for bad taste and unhinged statements. But I did so not because I am an undereducated, violent, intolerant, gun-waving xenophobe—as the press has made habit of defining Trump supporters. I have an MBA. I refuse violence and support gun control. And I'm an immigrant, now a citizen after obtaining green cards twice, all by the legal process.

I voted for Trump only because of the smell of corruption emanating from the Clinton Machine. That smell is well documented by Wikileaks and Podesta's emails depicting the Clinton Foundation / State Department connections. To that you can add the past four decades of continuous scandals—why only them with so many? You get my picture.


Former President George Bush is hugged by his son Jeb at the formal opening of the George Bush Presidential Library and Museum on November 6, 1997. (Reuters)

But there is one more reason to fear their corruption: the history of ALL countries around the world, since WWII, where an immediate relative followed a president or PM (see my list below). In all cases, either the "succession" was made possible by endemic corruption, or advanced it as a result, or both. This is to be expected when the vested interests supporting one person get to take advantage of continued control of the government from behind the scenes by electing the relative.

By the way, the Bushes fit that pattern too. I objected to Jeb Bush on those grounds. Democratic institutions can control visible political activity (and will control Trump's extremes), but they cannot control the invisible quid pro quo that corruption brings. Trump's lack of institutional backers is the attractive part. If he can just push and deliver term limits and limits on lobbying, as he promised, he will have drained enough of the swamp. Beyond that the Congress can handcuff him as necessary.

So, perhaps the sky is not falling and a more reasoned discussion could help your readers, and recover the high editorial standards of The Atlantic. More importantly, you could help voters understand that women can and do make great leaders (Thatcher, Meir, Merkel), but we have to pick those that built their own career on their own ability, not those pushed along by private interests. Let's hope for a better choice next time.
Here's the list of dynastic world leaders that Marco compiled (I added #5-7):
Juan and Isabel Peron in Argentina in the '70s (husband and wife)

Justin Trudeau / Wikimedia

Kirchners in Argentina in '00s (husband and wife)

The Aquinos in the Philippines (husband would've been president if not assassinated; Corazon, the wife, became president, as did her son.)

Nehru and Gandhi in India (Indira Gandhi followed her father (Nehru), and her son Sanjay virtually ran the country under her administration)

Pierre Trudeau and Justin Trudeau in Canada (father and son both prime ministers, the son currently)

Lee Hsien Loong and Lee Kuan Yew in Singapore (father and son both prime ministers, the son currently)

Uhuru Kenyatta and Jomo Kenyatta in Kenya (father and son both prime ministers, the son currently)

Mandelas in South Africa (husband and wife controlled the ANC government). They raised corruption to a science.

Park Geun-hye / Wikimedia

Imelda Marcos (provincial governor while husband Ferdinand was president)

GHW Bush and GW Bush in the U.S. (father and son). The father's Neocons gave us Iraq.

In 2016, the ultimate, Nicaragua's Ortega is running for a third term with his wife on the ticket.

In recent weeks, corrupt practices by South Korea's president Park Geu-hye were reported and admitted. She is daughter of the former president.
Did the Democratic Party make a mistake backing another Clinton? Can you relate to reader Marco's sentiments? If so, does it matter when it comes to backing Trump? Drop us a note if you'd like to respond to Marco. Update from another reader, Rick: "This is the first pro-Trump argument that doesn't scare me to death." Then let reader Mark try:
I would like to point out the obvious: The Clinton dynasty is likely over whenever Hillary is done. The Bush dynasty still has some legs. But the Trump dynasty is just beginning. He gave his children large roles in his campaign and will either give them roles in his administration or will have them overseeing his business. To put it ungenerously, we now have our own Uday and Qusay.
But don't discount the Clinton dynasty yet; there is widespread speculation that Chelsea is being groomed for a congressional run. Reader David, on the other hand, doesn't see dynastic politics as necessarily a bad thing: "Well, I think we got pretty good stuff from the Roosevelt 'dynasty'—Teddy and FDR!"
Circling back to Marco, here's a reader rebuttal from Emily: