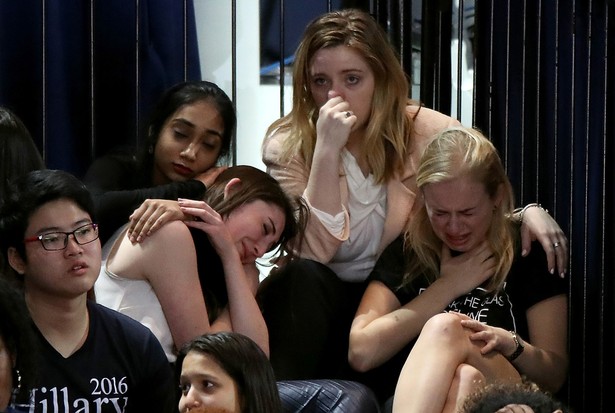 We've heard from scores of readers who can relate to Megan's letter about feeling responsible for Hillary Clinton's loss—many of whom offered sympathy and assurances that it's not her fault, and many of whom (like me) share in Megan's sense of guilt. One reader, Laura, says she understands where Clinton voters like Megan are coming from—up to a point:
Well, actually I don't understand, but rather I recognize the behavior. And it angers me, because I thought after all these years of struggles to raise the status of women, all the sacrifice, that women would openly embrace and cheer on Clinton. But indeed, among younger women there was this familiar reticence to openly support Her.

I am 63. As a young woman, I worked with Planned Parenthood to ensure abortion rights, and then for the Equal Rights Amendment, and then organized secretaries' unions to improve wages and working conditions. Throughout my working life, the right of women to live as equals with men has been a driving force—an inheritance from my immigrant Spanish grandmother, who knew she was equal to men and made sure her daughters knew it as well, even if it only meant she ruled her kitchen.

So when my even slightly younger friends—who are the beneficiaries of all those decades of work—reluctantly, sheepishly, apologetically, expressed their support (or worse, their hatred) for Hillary Clinton, it was all I could do not to slap them with my grandmother's bony hand—her hard-working hand—and say, "You fool, we've worked too hard for this. Be proud, have some pride."

It was a once-in-a-lifetime chance that I doubt I'll see again and I am heartbroken—not only to have missed the chance to see a woman president of the U.S., but also to know that younger women have not overcome the shame of sex discrimination.

We fight on.
Ann Laughlin, a reader who marched for the women's movement in the 1960s and '70s, would agree with Laura: "So many paid so dearly to get women the privileges we take for granted. We took the benefits and lost the focus. We did not finish the job we started." This next reader, Meghan Edwards, can speak to that sense of complacency:
I did not campaign for Hillary. Before last Tuesday, I didn't feel connected to her at all. But I did vote in this election, and I voted for Hillary, because to me, there was no other option. The other option wasn't real. It wasn't something that I took seriously, nor was it something that the mainstream media—which I consume every day—treated seriously. Memes. Hair jokes. Mouths as eyeballs. It was always, always a joke.

And because of this, I thought this election would be a breeze. I thought we would be sitting back at 9 p.m., celebrating an already called election for Hillary. I thought we would feel the same way we felt in 2008 after President Obama won—elated, as we made history.