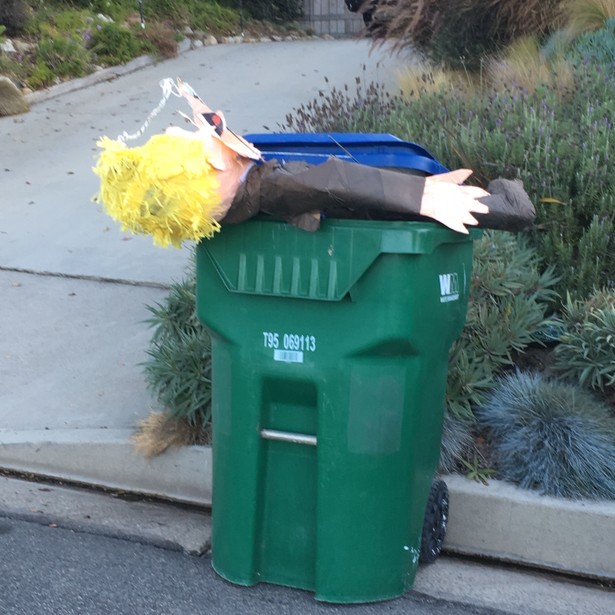 A reader in California sends a photo of a discarded piñata of Donald Trump she saw yesterday:
Here's "Trash Day on the Left Coast," a photo from my morning dog walk. We also passed two women (separately, not together), crying.
Most of the Atlantic readers in this massive discussion thread are also distraught over Hillary Clinton's loss. From the most up-voted comment, by Terri:
The United States of America has elected a man president that is more suited to being the dictator of a Banana Republic than the leader of the most powerful nation on earth. And those that elected him they knew exactly what they were doing. Give Trump credit. There was no deceit. His bigotry and misogyny were on full undeniable display as was his ignorance, his pettiness and his vindictiveness. This is what close to half of the electorate wants as its leader. There is no other conclusion.
Another reader, Kat, voted third party:
While I agree Trump's unsavory aspects appeals to Alt-Right miscreants and undoubtedly won him some votes, they are a minuscule portion of the electorate compared to women. The fact Trump won despite his reckless and bigoted remarks, which undoubtedly cost him millions upon millions of votes, only shows the weakness of the global capitalist vision that is at the heart of the DNC.

People need living-wage jobs in a nation state that preferentially serves their interests as citizens. Many of the more rarified, post-Marxist leftists out there don't seem to even believe in social democracy, or refuse to accept that social democracy requires social cohesion, labor protectionism, etc.

A lot of the hard core Critical Race Theory types may find themselves aligned going forward with libertarian capitalists of the NeverTrump variety. I mean what common ground do Bernouts like me have left with some of you except for a few social issues like reproductive choice?
I also asked some readers in this discussion thread how they've talked to their kids about Trump's stunning victory. Jim via hello@:
The morning after the election, I spent part of breakfast reassuring my 7-year-old son, who is scared that because Donald Trump will be president, his friends will have to leave the country just because they are Mexican. In our carpool, I needed to do the same for two girls, 9 and 8, who are afraid their father will likewise have to leave because he is Latino.