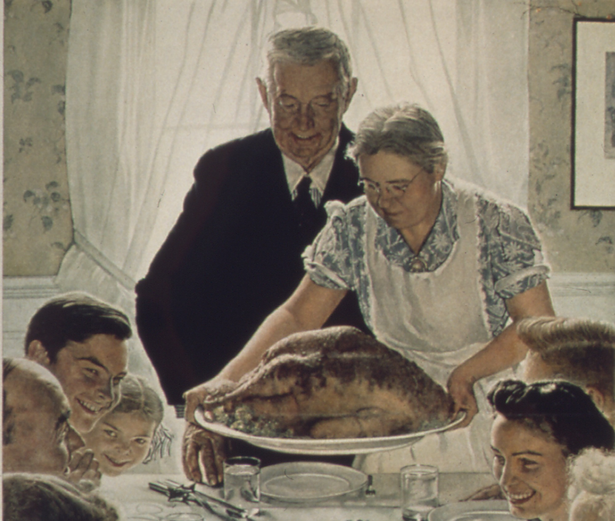 When you are an American living overseas, Thanksgiving is an even more powerful nationally unifying holiday than the Fourth of July. All the Americans know something special is going on; for everyone else, it's just another Thursday. Even for non-Americans who are aware of the concept, the shifting date means they can't quite keep it in mind, as they can with July 4. So the overseas bands of Yanks figure out where they can scrounge up our national-cuisine oddities like actual turkeys (usually we made do with great big chickens in Malaysia, and once a duck in China), cranberries, filling for pumpkin and pecan pies, etc. Even the tiny marshmallows to go with sweet potatoes. Then the American expats gather at someone's home in the evening. Back in the days of VCRs, we would play a tape of some old football game for atmosphere.
This is on my mind because this is the first Thanksgiving that I will technically miss, for dateline reasons. I'll get on a plane when it's still Wednesday night in the U.S., and get off on the other side of the Pacific when Thursday is almost done. It's a brief out-and-back trip and a long story, but "2016: The Year Without Thanksgiving" is an uncomfortably close match for my mood.
Nonetheless! As time allows in the coming days and weeks, I'll put up some brief Thanksgiving-toned items about regrowth, recovery, resistance, reform, renovation, renaissance, and overall re-themed efforts at the local level. Let me start with this one now, which involves one of the towns that epitomized the mainly white, economically beset, distressed-manufacturing zones that were Donald Trump's mainstay. This is our frequent haunt of Erie, Pennsylvania, long a Democratic stronghold that this time went narrowly for Trump. But even as the votes were being counted, the city had some good news.