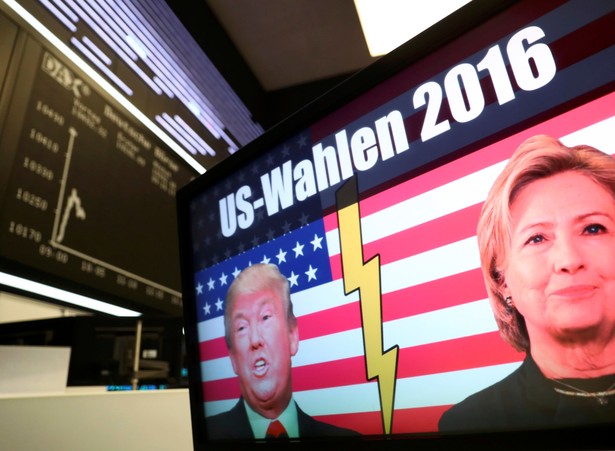 For a primer on how precarious relations are between Germany and the U.S. following Trump's win, don't miss Frum's piece from yesterday, "America's Friendship With Europe Has Been Horribly Damaged"—and "nowhere," he writes, "does the reaction look more dangerous than inside the most powerful state on the European continent, Germany."
[Trump's victory] up-ends German political assumptions about the United States, at a time when Germans are already ready to have those assumptions up-ended. The mighty German middle is becoming less mighty, discredited by Angela Merkel's flung-open door to Middle Eastern refugees. Anti-refugee, pro-Putin forces are gaining strength at the expense of the parties of the center. Two-thirds of Germans oppose a fourth term for Merkel.  

Merkel has backed herself into a crazy political dead-end. She is identifying an open-door immigration policy as the foundation of her kind of liberalism—even as, in reality, large-scale immigration is helping destroy liberalism across the countries of Europe, and even within Germany itself. Warning that a Trump-led United States might not espouse values of democracy, freedom, the rule of law, and equal human dignity amounts to a passport for Germany out of the U.S. alliance.
Heute wird gewählt! #USwahl16 #USElections2016 pic.twitter.com/uA5u88QIei

— Hamburger Morgenpost (@mopo) November 8, 2016
Three German readers sent us dispatches from Deutschland last week reacting to Trump's win and what it might mean for their country. My favorite one is from this first reader, Dariusch, given his heterodox views:
I'm an (atheist) German-Iranian, born and raised in Germany, living in Berlin with a background in political science, currently owning a cafe and maintaining a one-person video production company. I'm a green left winger, critical of some aspects of globalisation and welcoming of others. Unlike many left wingers in Europe and Germany, I don't have a black-white view of the world or the United States. Things are too complicated for that.

On the morning of November 9th, my girlfriend checked out a News alert on her phone and yelled out "Oh my god! Trump has won!" I just broke out in hysterical laughter, because it seemed so unreal that a clown would be the next president of a country that shaped European and German culture and politics so tremendously over the past 70 years.

If Trump goes along with his foreign policy plans of not honoring NATO commitments in Europe, that might actually have positive effects over here, as this could be a driver for more inner-EU cooperation regarding the security architecture in our neighbourhood.