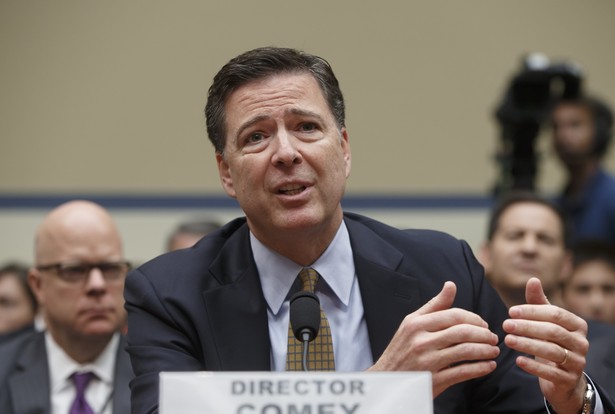 Fallows is swamped at the moment, partly to finish a cover story for our upcoming issue, so he passed along a ton of reader email with permission to post. (Thanks to everyone who has written him, as well as the general hello@ account, and we're trying to post as many of the best emails as we can before Election Day.)
To start us off, a few readers find that the FBI director was put in a very difficult position following his agency's July announcement that it would not recommend charges to the Justice Department against Clinton for her "extremely careless" use of emails. Comey was then lambasted in public before the House Oversight Committee and increasingly invoked in Trump's pernicious "rigged" rhetoric on the campaign trail. This Fox News clip is a taste of things as they got started in July:
A reader suggests that Trump won by getting into Comey's head:
It seems to me that the unfortunate way that Comey handled this situation was definitely a very clear-cut case of "working the refs." Trump and his campaign have pushed so hard on the idea that everything is rigged—including the FBI—that when these potentially new emails came up, Comey lost his backbone and decided to cover his ass and show The Republicans that he was not rigged. Sort of like a make-up call in a big game.

It is an indictment of our current state of affairs in regards to normalizing Trump that despite the widespread pushback on Trump's "rigged" talk, it still was not discredited outright enough by EVERYONE. If we had a normal candidate who accepted the system, then Comey would not have been feeling the pressure to prove he was not "rigged," and he would have followed the 60-day tradition that has been in place for decades even if it meant taking some heat about it down the line.
This next reader has outright sympathy for Comey—pity even, given his apparent weakness in the face of Trumpism:
Fallows makes a number of good points in his thoughtful piece on falling norms. My problem here is that one of the "norms" that has fallen is "equal justice" under the law in this country. The real tragedy here for Comey and the country is the fact that he gave Mrs. Clinton a pass when it is obvious that she violated several laws [or at least federal records rules, which—speaking of the erosion of norms—started to be chipped away by Clinton's predecessor, Colin Powell]. The idea that she should not have been prosecuted is not credible and polls of the American people make that clear. Opinion writers like Fallows seem to ignore this fact, which is why there is the current situation.

I feel bad for Mr. Comey, but he should have done the right thing in the first place.
Update from a reader who rebuts a sentence above:
"The idea that [Clinton] should not have been prosecuted is not credible and polls of the American people make that clear." This is, in fact, the problem itself. In a society governed by law, you have to accept the verdict of law. You can criticize it and rail against it, push for legal reforms, but you should not and cannot question its legitimacy itself (one more norm broken).

In this case, if Comey (a Republican) reviewed all evidence and decided that there was not enough to prosecute, our "feelings" and "polls of American people" (unfortunately) don't matter. A similar parallel is Black Lives Matter, where unless a verdict that is acceptable to the activists is not reached, the jury is racist and the system is corrupt. A more thoughtful viewpoint is that in view of the facts presented, the jury could not / did not reach a "guilty" verdict.
For Comey's part, according to officials close to him, he felt both a sense of obligation to Congress and "a concern that word of the new email discovery would leak to the media and raise questions of a coverup"—though not as much "raise questions" as throw fuel on the Trump dumpster fire already raging for weeks.
This next reader, a lawyer in L.A., while no apparent fan of Trump, points a finger at the Clintons and their deep establishmentarianism:
As far as Comey, the entire process was politicized, and I suspect a careful review of the government's prosecution history for these offenses will show that Clinton was the only one who was not prosecuted for her security breach. A FOIA request could show that. One can be a Democrat, and all that, or simply despise Trump for being the unaccomplished heir that he is, but can one really argue that Billary do not enjoy unprecedented treatment from their capture of the Democratic Party, or that the capture did not lead to her nomination and the FBI's decision not to prosecute?
Another lawyer, on the other hand, blasts Comey: