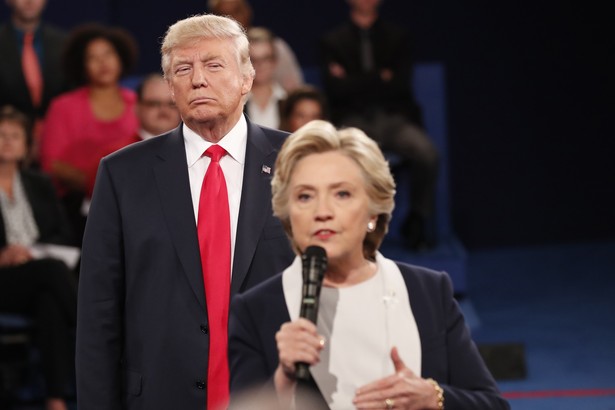 In my current cover story on the debates, I quote noted primate expert and anthropologist Jane Goodall:
"In many ways the performances of Donald Trump remind me of male chimpanzees and their dominance rituals," Jane Goodall, the anthropologist, told me shortly before Trump won the GOP nomination. "In order to impress rivals, males seeking to rise in the dominance hierarchy perform spectacular displays: stamping, slapping the ground, dragging branches, throwing rocks. The more vigorous and imaginative the display, the faster the individual is likely to rise in the hierarchy, and the longer he is likely to maintain that position."

In her book My Life With the Chimpanzees, Goodall told the story of "Mike," a chimp who maintained his dominance by kicking a series of kerosene cans ahead of him as he moved down a road, creating confusion and noise that made his rivals flee and cower. She told me she would be thinking of Mike as she watched the upcoming debates.
During the first debate, when Hillary Clinton and Donald Trump stayed at their assigned lecterns, we didn't see this as much. Last night, the scenes that Goodall was imagining played out before our eyes: Trump looming up behind Clinton, walking very close into what we'd normally consider her "personal space," emphasizing the fact that he is physically so much larger than she is. Here is a short GIF of him moving in on her.
But you don't have to believe me, or her. No less an authority than Nigel Farage, Brexit-campaign leader in the U.K. and now enthusiastic Trump backer, gave an interview in the spin room in which he said that Trump "looked like a big silverback gorilla"—and meant it as a compliment. "He is that big alpha male. The leader of the pack!"
See for yourself, in this incredible on-scene video via Ben Smith of BuzzFeed.
***
While this behavior presumably made Trump feel more dominant and also pleased people like Farage who already supported him, will this help him win the election?