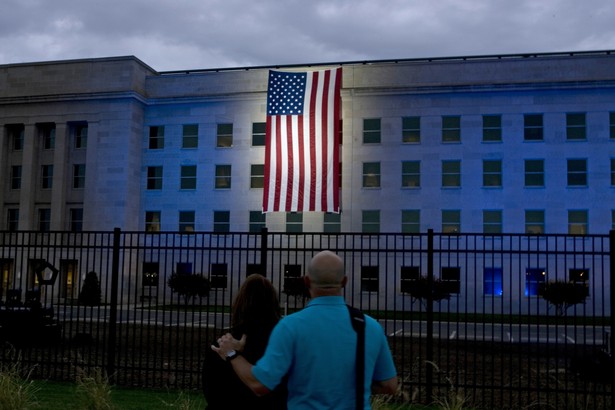 "People remember the Twin Towers," writes Stephen, a reader in Illinois. "But I remember the Pentagon." Update from Stephen: "I lived in Pentagon City between September, 1967, and November, 1968. On September 11, 2001, our daughter was back at the University of Arizona, having just completed her internship at MSNBC near the Capitol Building. [After the attacks, we] quickly returned to D.C., together, and went back to Pentagon City to visit the memorials":
I took my college-age daughter, at night, to visit the shrines that had been erected by ordinary people in the traffic turnarounds and witnessed the enormous canvas shroud that was hung over the west wall to hide the devastation as clean-up and recovery proceeded. It disgusted me that our country had been so ill-prepared despite ample warnings. And that there was no accountability for failure to protect our nation's commercial and political capital cities.

In our own small industrial marketing business, we did not put a single check through our company's checking account for 90 days. Customers stopped paying, in panic over uncertainty gripping businesses like ours. When business came back, it was down 40 percent. That is my memory of September 11—personal and professional disaster.  And loss of faith in our government and its leaders.