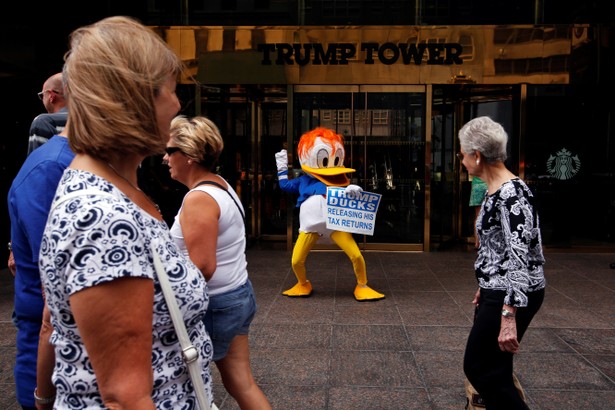 With 61-plus days until the election, Donald Trump remains the only major-party nominee for the presidency or vice presidency of the post-Watergate era who has refused to release his tax returns. Not coincidentally, of all nominees through that period, Trump also has the most complicated and least-publicly-understood personal and corporate finances.
Why is he drawing the line here? Readers offer their hypotheses:
I started my career with a year as an IRS agent before jumping across the desk to work for a "Big Eight" firm (which I think is now the Big Four?).

It's been a long time since I've been doing taxes, but my gut tells me Trump hasn't filed in the first place.

I remember being involved with clients who had endured bankruptcies, the implosion of complex energy partnerships, and/or the collapse of the real-estate market.

Their partnership K1s would be delayed for so long that we'd sometimes have to file with numbers we ... well... sorta made up. Once the K1s arrived we could always go back and amend, but by providing some form of a reasonable estimate we could show good faith.

However, there were some clients that hated the tax code, and the entire Byzantine process (not to mention our fees). So some of them opted out until something came along and forced their hand to file (e.g., an audit).