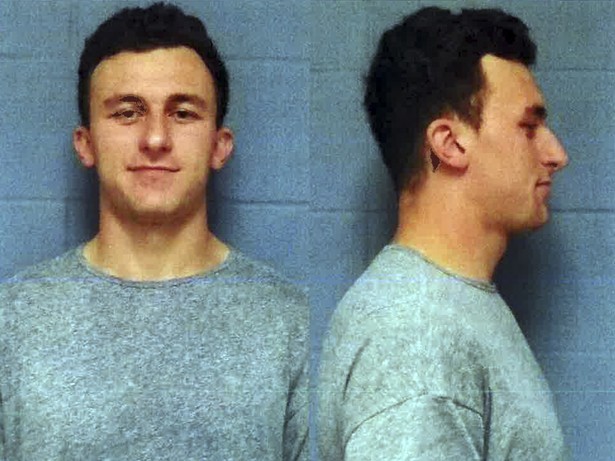 There was a disturbingly familiar story in the news today: a football player, this time from the University of Southern California, was charged with raping a woman who was unconscious. Stories of violence against women are pervasive among athletes, and many of those cases have happened in the NFL.
To be sure, rape and domestic violence is not limited to football. In July, the Chicago Cubs acquired ace pitcher Aroldis Chapman to help lead them to the World Series, despite his troubling history of pushing and choking his wife. His is far from the only case of domestic violence in professional sports, which I've highlighted in previous reporting.
But it's hard to overlook the troubling way the NFL has handled issues of domestic violence with its players, from Ray Rice to Adrian Peterson. Many of our readers have abandoned football for that reason. Here's Amy, who "stopped watching and following football a couple of years ago, after being a fairly faithful Niners fan since the mid-1990s":
I started watching football in law school in 1999 because the complex rules fascinated me, the team was doing really well, and Steve Young and Jerry Rice were just plain fun to watch. Plus, as a young woman attorney working in male-dominated law firms in the late '90s, it helped to be able to talk knowledgeably about football.  

When the press began reporting on traumatic brain injuries among NFL players, I felt increasingly uncomfortable with the game. The final straw for me was a string of horrific domestic violence incidents, including the arrest of Ray McDonald. The NFL's tone-deaf response and failure to impose meaningful penalties on players who abused their partners was sickening to me, and I was done. I haven't found it hard to pull away from the game, and most NFL-related headlines I see reinforce that I made the right decision.
Tammy is close to making that decision:
There is no question I watch football far less than I used to. I went from an avid, every-game viewer (Sunday, Monday night, etc) to a few games a season, if that. But not because of the concussions, although those do not help.

Frankly, I have grown tired of watching the violence that they, the players, perpetuate against women while everyone turns a blind eye. If caught, they are slapped on the wrist and are still paid millions.