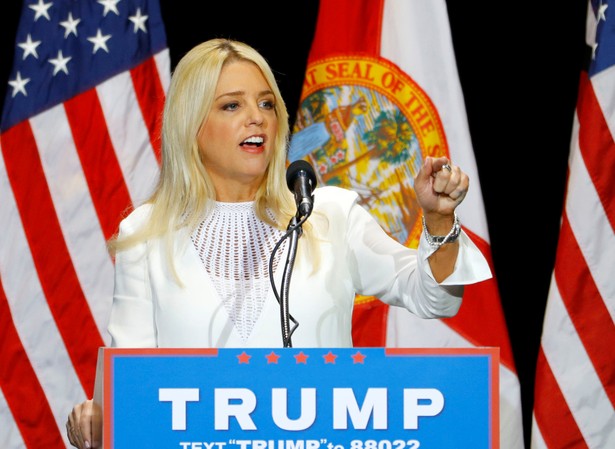 Through any campaign, candidates have ups and downs in their editorial-page treatment. The concentration of these four editorials in the past 24 hours seems unusual and is worth noting as a possible press recalibration.
1. Tampa Bay Tribune, "Feds should investigate Bondi-Trump connection." This is of course about the apparent pay-to-play connection of Donald Trump's donations to the Florida Attorney General's campaign, and her then deciding against an investigation of Trump university. The editorial begins:
Federal prosecutors should investigate whether there is any connection between the decision by Attorney General Pam Bondi's office not to pursue fraud allegations against Trump University and a $25,000 campaign contribution he gave her. Since Florida prosecutors will not touch this mess, the Justice Department is the only option. The appearance of something more than a coincidence is too serious and the unresolved questions are too numerous to accept blanket denials by Bondi and Trump without more digging and an independent review.
The Washington Post also has an editorial on this theme, "The Pam Bondi case shows that Trump is more hustler than businessman." What is already known in this case—flow of money, favorable government treatment, exact cause-effect not yet proven—is so much starker than what is suspected in the many Clinton Foundation episodes that it is overdue for extra attention.
***